Perhaps the least convincing special effect in a Hollywood blockbuster newly released on DVD was an attempt to recreate Bermuda in central California.
In a modern-day comedic retelling of the Jonathan Swift classic "Gulliver's Travels", actor Jack Black plays Lemuel Gulliver — a mailroom clerk at a New York newspaper who discovers Lilliput off the coast of Bermuda.
After Gulliver bluffs his way into an assignment in Bermuda to write about the Bermuda Triangle, he is hurtled to the undiscovered land  where the inhabitants are only six-inches tall. Although the film is partially set here, no location footage was shot in Bermuda — other locales closer to Hollywood were used as stand-ins for the island.
The film shows Jack Black's Gulliver arriving at the "Bermuda" airport complete with sign saying "LF Wade International Airport", coastal roads and a marina. But the bulk of the "Bermuda" footage was shot thousands of miles away at the Four Points hotel and sailing development on California's Ventura Harbour.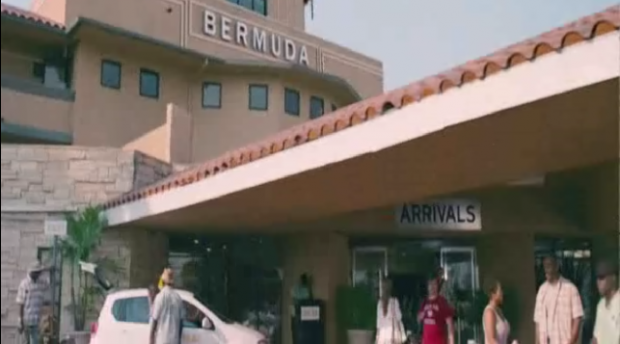 The producers' failure to hire actors sporting Bermudian accents for the scenes supposedly set on the island has also drawn criticism for being inauthentic.
"That was so not a Bermudian accent," read one comment in a feedback section for the film's trailer at the "Gulliver's Travel" official website. "I'm so tired of the generic Caribbean accent – especially because Bermuda is not in the Caribbean!"
"Gulliver's Travels" was released theatrically by 20th Century Fox in December, 2010. The film — which received withering reviews and generated Lilliputian box office revenues– co-stars Emily Blunt, Amanda Peet and Billy Connolly. It was directed by Rob Letterman whose credits include the computer-animated hits "Shark Tale" and "Monsters Versus Aliens."
Read More About
Category: All, Entertainment, Films/Movies, News, Videos