Area residents, friends and family members of Kenwandee "Wheels" Robinson gathered last night [May 22] in the St Monica's area to pay tribute to Mr Robinson – who was shot dead in the same area two years ago.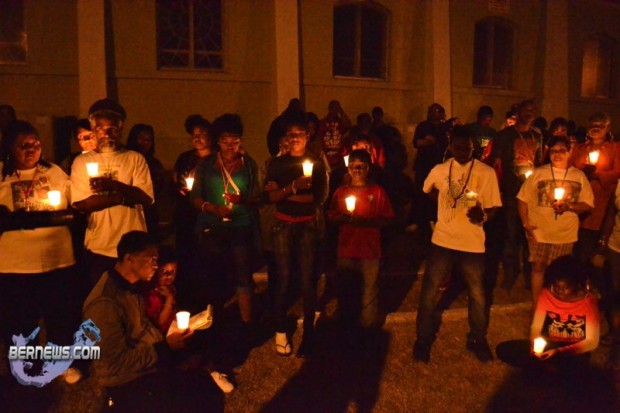 Two years ago to the day – on May 22, 2009 – Mr Robinson was fatally shot while in the St. Monica's Road area. The 27-year-old father was socializing with friends when two men on a motorcycle opened fire on the group, shooting both Mr Robinson and his friend Mikey Adams, who recovered from his injuries. Mr Robinson left behind a number of devastated friends and family including a young son La'Naiye, who is pictured below alongside his mom Laneh Simmons and Scott Smith.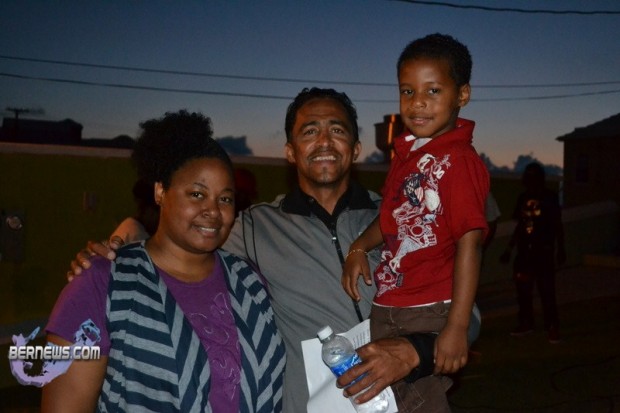 His mother Karon Robinson [pictured below] was in attendance, and said the vigil warmed her heart and made the day – which clearly carries extremely bad memories for her – considerably better. She said she was really touched by everyone taking their time out to attend, and it cheered her up making the day "100% better". She said although its been two years since her son was taken from her, it feels like two minutes most the time. Ms Robinson said although it has been extremely difficult, her faith in God has carried her through. She and other family members of Mr Robinson spoke against any form of retaliation, saying that it is all in Gods hands.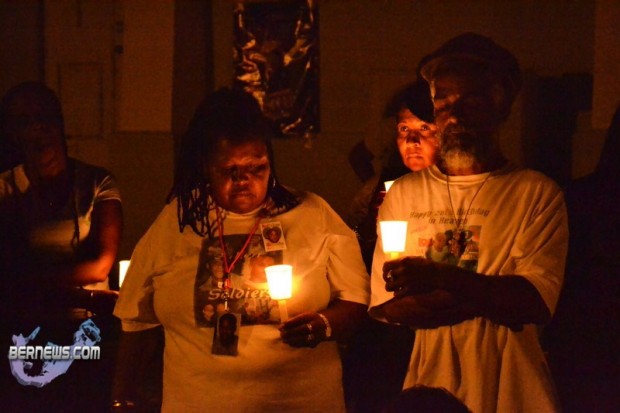 The evening began with a prayer by community activist Scott Smith while attendees lit their candles. Candace Furbert performed two songs, including her version of Barrington Levy's Vice Versa Love, which has become a staple of the vigils. A clip of her singing is below, set to various photos from the vigil:
Bermudian hip hop artist Mona Li$a performed 'Island Not the Same,' which she was inspired to write after her cousin and good friend Jahmiko Leshore was murdered in March of this year. Mr Leshore and Mr Robinson were friends, and her song was well received, especially the line "No individual sets as we are all from the same nine parishes… All we need is some love now, so put the guns down."
Mr Robinson's first cousin Hannah Robinson performed an impromptu acapella solo of Sarah McLachlan's 'I Will Remember You', which was very well received by those in attendance with calls of "more fire" and "pull up" after she sang the first verse.
Ms Robinson also spoke briefly, saying that thoughts that the residents of the area all compromise a gang is incorrect, that they all grew up together, played together and live together. Her sentiments received applause from many area residents in attendance.
The event was organised by the group 'Colfords Family Against Violence,' which was formed after 29-year-old Colford Ferguson was murdered earlier this year. The group has been holding vigils across the island in memory of murder victims, and seeks to work against gun violence in a community based manner.
Antonio Belvedere [pictured below] of the group Stand Up Bermuda spoke at the vigil, inviting everyone to attend the 'Stand Up For Change' Peace Rally' on June 26th.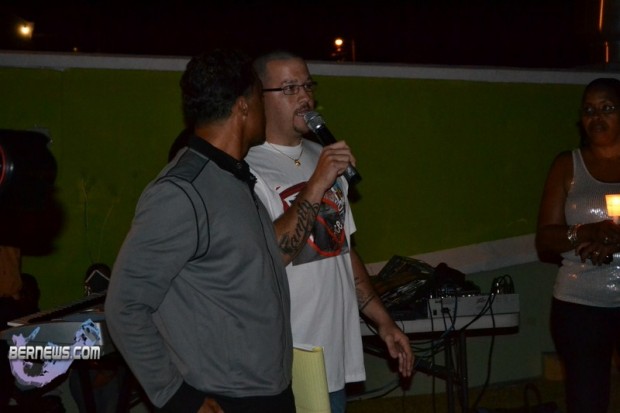 After the vigil ended, Mr Robinson's friends made their way across the street and placed lit candles on the road. Flowers, a teddy bear and a photo of Mr Robinson had been placed in the same spot earlier that evening.
Mr Robinson's murder remains unsolved, however during the Antonio Myers murder trial in March 2011, an expert witness testified that one of the guns used in the Kumi Harford killing was also used to murder Mr Robinson. Mr Harford was shot only yards away from where Mr Robinson's murder took place.
The investigation into hus murder is still ongoing, and anyone with information regarding the murder of Kenwandee Robinson is urged to contact the Serious Crime Unit on 299 8115, or send an anonymous tip via the confidential CrimeStoppers hotline on 1 800 623 8477.
Read More About