Bermuda Zoological Society (BZS) and the Department of Conservation Services, within the Ministry of Public Works, are urging boaters and fishermen to take extra care this summer to avoid harming endangered sea turtles.
Bermuda's marine turtles are a protected species under both the Fisheries Protection Order and the Protected Species Act, says BZS research scientist Mark Outerbridge, coordinator of the Bermuda Turtle Project.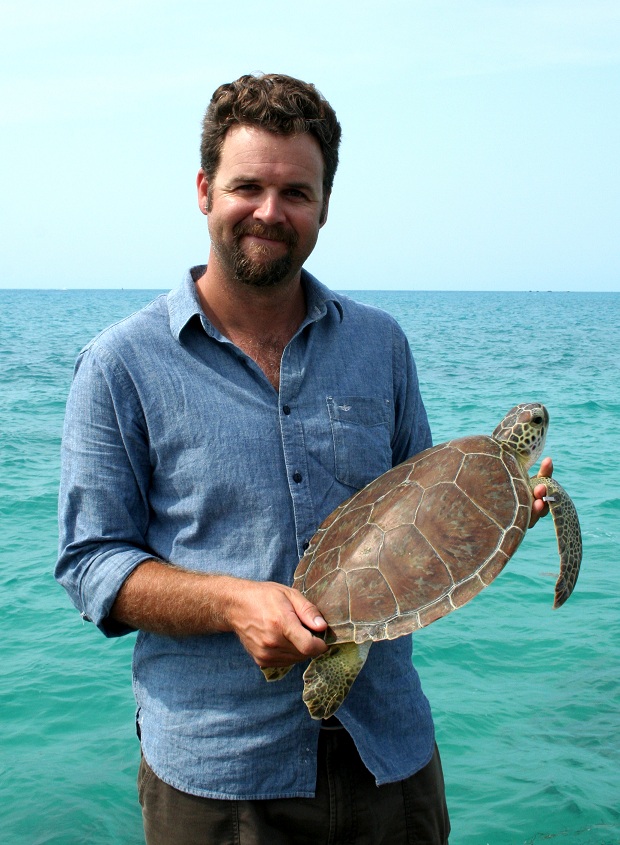 Entanglement is one of the greatest threats to Bermuda's resident sea turtles, Outerbridge notes. The other is getting hit by boats. Both types of injury have caused 77 sea turtles to be taken to the Bermuda Aquarium, Museum & Zoo (BAMZ) for treatment or analysis over the past 25 years.
"Fourteen turtles were tangled in mono-filament fishing line left in the marine environment by local shoreline fishers—and sadly, nearly all of them were found dead," says Outerbridge. "This led the Bermuda National Trust to install 14 mono-filament recycling bins at popular fishing spots around the Island, in conjunction with an awareness campaign highlighting the harmful effects that discarded fishing line has upon marine organisms. These bins, made from six-inch PVC pipe, serve as waste receptacles for unwanted fishing line. If used, they are a simple yet effective way of keeping fishing line out of the ocean environment around Bermuda."
Recreational fishing has been the cause of 10 turtles being admitted to the BAMZ Wildlife Rehabilitation Centre for veterinary treatment since 1986. All had small fish hooks embedded in them, mostly in the jaw and mouth cavity. Nine were successfully treated and subsequently released; one animal died. Outerbridge cites the most recent example of a turtle that had to be operated on at BAMZ—but this story had a happy ending.
Last month, a concerned member of the public took a juvenile green turtle to BAMZ which he had accidentally caught with a hook and line off a public dock on North Shore. The turtle was alive and had two fishing lines trailing from its mouth. BAMZ Principal Curator and veterinarian Dr. Ian Walker immediately transferred the turtle into the new Animal Care Centre at BAMZ for examination. A digital X-ray revealed the turtle had swallowed two baited fishhooks—both of which were located deep within its throat.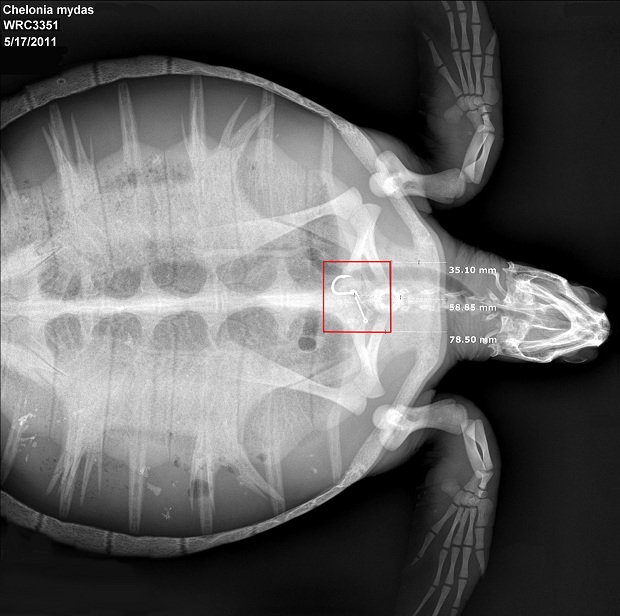 "Dr. Walker performed two procedures under general anesthesia to remove the majority of mono-filament fishing line which would otherwise have acted like a saw and severely damaged the turtle's intestines," says Outerbridge. "The two hooks were located in a difficult position and could not be removed during the procedures despite multiple attempts. It was elected to leave them in place and monitor the turtle."
The turtle was kept under close observation in the BAMZ Wildlife Rehabilitation Centre, and a series of X-rays over the course of a three-week period showed the hooks were slowly making their way through the turtle's intestines with no problems. The turtle finally successfully eliminated both hooks in early June, making it unnecessary to perform invasive surgery. On June 10, the turtle—nick-named "Hooks" by BAMZ aquarists who had cared for it, was tagged and released back into the sea.
"I am very grateful that the fisherman who accidentally caught 'Hooks' brought the turtle to BAMZ instead of immediately releasing it into the ocean with the fishhooks still inside of it," notes Outerbridge. "The health of a sea turtle can be seriously compromised when it has a fishhook embedded in its mouth or throat. Worse yet is the mono-filament fishing line that is attached to the hook, which can cause intestinal damage via blockage or laceration. Also, if there is a lot of fishing line training behind the turtle, it can become entangled and drown."
Read More About
Category: All, Environment, News