The Bermuda Police Service confirmed that on the first day of Cup Match [July 28] they shutdown BeachFest at 8:30pm in "the abundance of caution."
As Bernews reported on Thursday, the BeachFest celebrations were marred by fighting and the event  - which had been scheduled to go on until 2am – shut down hours early.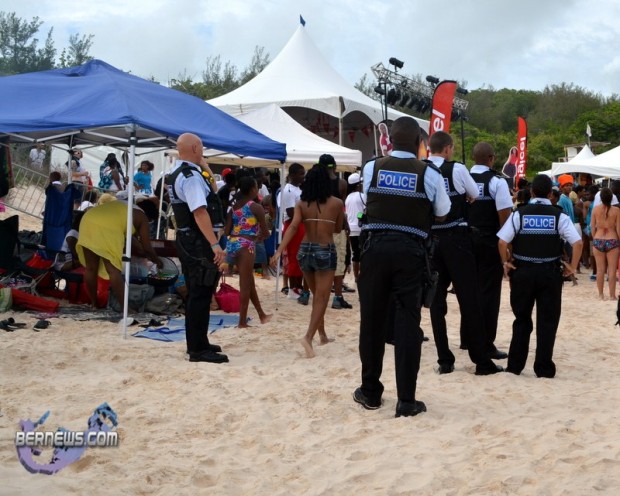 Last night a police spokesperson said, "Police were called to Horseshoe Bay Beach yesterday after receiving a report of a disturbance. Upon police arrival two males were taken into police custody, processed and detained at Hamilton Police Station. Police in the abundance of caution shutdown BeachFest at 8:30pm without further incident."
The Chewstick-hosted Annual BeachFest Emancipation Celebration is held each year at Horseshoe Bay, and the popular event sees thousands of locals flock to the beach to enjoy games, live entertainment and much more.
This year, the event was rebranded "PeaceFest" – with Chewstick saying the concept was to "call attention to the growing ultra-violence in Bermuda." Many patrons expressed disappointment that the bad behaviour of a few individuals negatively impacted the event for everyone.
Police also confirm that a fight was reported at Southampton Rangers Sports Club on Thursday evening, however the perpetrators escaped. In addition, a 40-year old man was arrested at the Gate of St. George Cricket Club with drug paraphernalia over the weekend, and was subsequently transported to the Southside police station.
The police spokesperson concluded by saying, "The Bermuda Police Service is cautiously optimistic about the rest of the weekend [Friday night to Sunday night] and we are advising the public that police will have a very highly visible presence for the rest of the Cup Match weekend."
"If you drink please do not drive and if you see something suspicious say something to the authorities. If you are attending any major events during the evening hours please be patient as there are sure to be searches taking place in and round those venues. All of this activity only serves to make Bermuda Safer."
Read More About