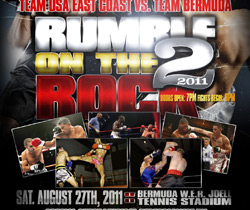 The "Rumble on the Rock 2" is to take place at the W.E.R. Joell Tennis Stadium on Saturday, August 27th at 8pm.
Bermuda is due to take on Atlanta in the full contact sports of Kickboxing, San Shou and Boxing.
Headlining the event is Bermuda Sanshou Association fighter Sentwali Woolridge who will be taking on Theo Tor in a 3-round San Shou match at 165 pounds.
Bermuda's top female fighter Talia Iris will also be featured on the card as she takes on Verity Yata. Teenager Samir Furqan will try to continue his winning ways as he takes on 25 year old Joel Kasik.
Shannon Ford and Deondre Morris who squared off against each other at Fight Night XIII will be joining forces this time around as they both take on American opponents Austin Alexander and Michael Graves.
Bermuda San Shou fighter Reyel Bowen will take on Shawntavius Wells and Bermuda Karate Institute's Jeron Gunness will square off against Kitwana Ruddock.
In boxing action Jashun Thomas, coming off 2 consecutive victories against Canadian opponents will take on Orlando Jewel and undefeated Chris Wilson will take on Troy Yancey.
Read More About