[Written by Stephen Wright]
Nikki Bascome admits that relief was the overriding emotion after his unanimous points win over Canadian Dylan Rushton in the main event in Fight Night Champion at The Shed in Royal Naval Dockyard yesterday.
Not only had Bascome not fought for almost two years after having several bouts cancelled because of the Covid-19 pandemic, but he also had to contend with a late opponent change after Canadian Waseem El Sinawi withdrew after contracting the virus.
It meant Bascome, who improved his record to ten victories from 11 bouts, had to make several technical adjustments to deal with Rushton, an experienced pressure boxer who has fought several times during the pandemic.
Bascome, however, largely dominated the eight-round welterweight contest, with all three judges scoring the bout 79-73 in the Bermudian's favour.
"The past two years have felt like a really long training camp – it felt like a relief afterwards," Bascome, 31, told Bernews.
"I had to change my style at the last minute because of the opponent change.
"I wasn't planning to box and move; I was planning to stalk my opponent and cut the ring off, kind of like what Canelo [Saul Álvarez] does.
"I only had two days' notice, but I managed to adapt and find spots, to fight and move. I'm glad that one is out of the way."
Meanwhile, Andre Lambe continued his impressive start to life as a professional, earning his third straight stoppage win against Canadian Jose Ceja.
The welterweight punished his opponent throughout the fight, with Ceja receiving two standing-eight counts before referee Anthony Mouchette stopped the bout in the third of four rounds.
"I have a lot more to show, and I'm very critical of performance," the 26-year-old southpaw said. "It was still a great performance, though.
"He was a tough guy. A lot of guys have had a tough time stopping him. I was able to hit him and rough him up with headshots. I was landing body shots too. I was happy with that. Hopefully, I can get five more fights this year."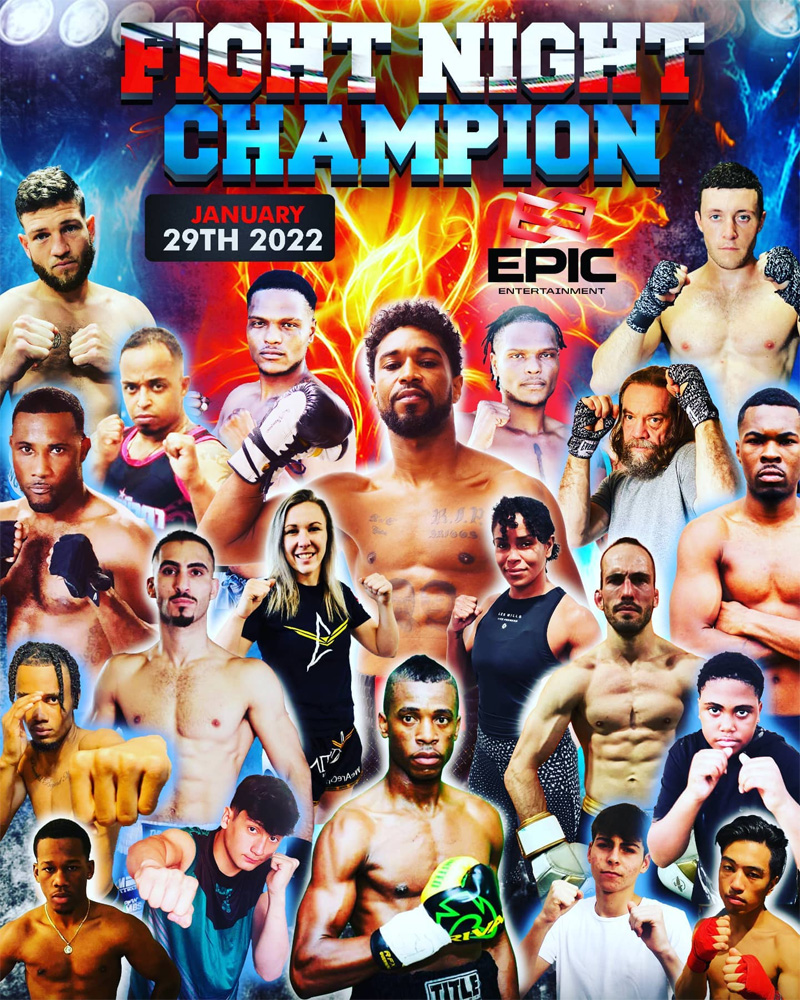 Adrian Roach reaffirmed his reputation as the island's top amateur with a unanimous points win over Canadian Jack Cabotaje on the undercard.
The 19-year-old, who improved his record to nine wins from 13 bouts, dominated the welterweight contest and knocked down Cabotaje in the second round.
"I was able to show a bit of everything: boxing, brawling and my technical side," the Crandall University student said.
"It was a good display of my skillset, and I believe the crowd was excited by my performance. I can put on a show.
"It was an honour to be fighting in Bermuda again after two years and show some of my growth.
"I got the knockdown in the second round and tried to pursue it in the third.
"But his hair came out of his tie, and that gave him a little more time. That was when I was trying to walk him down and keep up the momentum."
It was a busy night for Garon Wilkinson, the president of the Bermuda Sanshou Association, who had five fighters in action in kick-boxing bouts.
Up first was Enzi Johnson who defeated American Samantha Knight on points, while teammate Kallan Todd also enjoyed a points win over another US fighter, Schaeffer Underwood.
"Samantha had about 20 pounds on Enzi but she did well and managed to strike and circle and was victorious in the end," Wilkinson added.
"Kallan had his first official match, and he fought well. We wanted to see him exert himself and push himself a bit. He landed some good shots to the body and a lot of great combos.
"I would have liked to have seen him kick some more, but his basic conditioning was good. We're looking forward to seeing what he can bring in the future."
Twins Cole and Che Durham took on Aston Bell and Tyler Kerr, respectively, from Fight City Muay Thai and Fitness.
Debutant Cole came up short against Bell, who enhanced his record to four wins from five outings with a points victory; however, Che proved to be too big and strong for Kerr who showed plenty of heart and pushed his opponent all of the way.
"When we initially made the match-up, Ashton was only 0-1, but over the last few months, he has moved to 3-1 and attained a belt [the TBA Tournament of Champions], Wilkinson admitted. "We knew it would be a tough fight as it was Cole's debut.
"I knew it would be a challenge to pull out a points victory. Ashton was composed, calm, collected, and executed a flawless game plan.
"I thought Cole was in the match, though, and we're proud of his performance."
Wilkinson added: "Tyler was a smaller fighter and typically fights at a smaller weight class. Che's experience showed."
"Che came into the fight 2-0 and was calm throughout. We executed a great game plan, and he continued to move forward and countered well. It was a very tough match."
Krista Dyer, the BSA's top fighter, delivered a controlled display against Canadian Taylor Gerow in a bout which Wilkinson believed "could have gone either way".
He said: "Taylor was a very game opponent. I believe Krista won the fight, but I wouldn't have been upset if it had gone the other way.
"Taylor didn't have any weaknesses that we could pick up on. She's a solid all-rounder fighter with strong basics. She didn't allow Krista to strike and pick her shots as much as we'd have liked.
"Krista landed some big shot at the end of the second round. It was a solid match, and it was great to have Krista back in the ring."
Fight Night Champion
Enzi Johnson bt Samatha Knight [US], pts [kickboxing]
Kallan Todd bt Schaeffer Underwood [US], pts [kickboxing]
Ashton Bell bt Cole Durham, pts, [kickboxing]
Che Durham bt Tyler Kerr, pts [kickboxing]
Ethan Daniels v Noah Andrews, exhibition
Ismail Mohammed [Can] bt Dejon Benjamin, pts
Ngai Franklin v Michael Parsons, exhibition
Adrian Roach bt Jack Cabotaje [US], pts
Andre Lambe bt Jose Ceja [US], TKO
Nikki Bascome bt Dylan Rushton [Can], pts

Read More About