[Updated with video] This afternoon [Aug.5] former Corporation of Hamilton sanitation worker Michael Pond received donations totaling $2,754 to pay his court fine and assist him while he looks for new employment. Over 100 people donated when Mr Pond was fined $2,000 after slapping a teenage girl.
The check to pay the fine was made payable to the Accountant General, and the other to Mr Pond for compensation. The total amount of $2,754 was received from 115 people and one company.
Mr Pond read a short prepared statement: "Let me begin by saying thank you for the very generous gift, and more thanks for your compassion for my situation. I must admit that I was shocked and overwhelmed when you first contacted me with your intentions of assisting with the payment of my fine."
"I am grateful for all the work the two of you have put into assisting me. I am equally grateful to the Bermudian public and the people from the US, Australia and other countries for their support and financial giving. It is said that a thankful heart is not only the greatest virtue, but also the parent of all other virtues."
"Your organization should be applauded for taking a stand as it relates to the plight of our youth, and the morals, values, standards and plight of our home Bermuda. Thank you, two small words to convey the infinite feelings in my heart. I wish many blessings for the two of you and your organisation," concluded Mr Pond.
A movement to raise the funds for his fine was started last month by Erica Rance-Cariah and Janice Battersbee of the group 'The Bermudians', and culminated with today's presentation.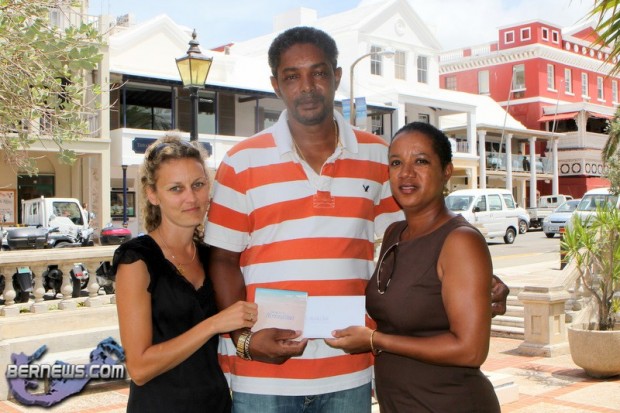 Donations continued to come in after people had been advised $2000 goal had been reached, with members of the public saying that they wanted to contribute anyway.
While working for the Corporation of Hamilton on a trash truck, Michael Pond slapped a 16-year-old girl who insulted him, and was fined $2,000 in Magistrates.Court.
Mr Pond, 43, told the Court, "We were working and she walked across the back of the trash truck with her friends and said the 'trash truck stinks and you stink."
Mr Pond said he warned her to watch her mouth, and she continued to insult him, and at one point insulted his mother saying: "Your momma's p**** stinks like the trash truck'."
He was arrested shortly after the incident, and admitted the offence to police saying "I just lost it, these young people are too rude". Following his conviction, Mr Pond lost his job with the Corporation of Hamilton.
Read More About
Category: All, Court Reports, News