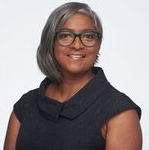 The Governor, Mr George Fergusson, has today [July 18] announced the appointment of Ms Maxanne Anderson [pictured] as a Magistrate. It is anticipated that she will take up the full-time post in the near future.
Mr Fergusson said, "I am very pleased to announce Ms Anderson's appointment, following the recommendation of the Judicial & Legal Services Committee. She is highly qualified to take over the challenges of this role, having served in the role of Acting Magistrate and Coroner since 2006."
Ms Maxanne Anderson attended the Purvis Primary and the Warwick Academy. Ms Anderson obtained her Bachelor of Arts Degree from Spellman College [Cum Laude] majoring in Philosophy with a Minor in Economics in 1993
Ms Anderson obtained her law degree at the University of Kent at Canterbury in 1995 and was called to the Bar of England and Wales in 1997, and to the Bermuda Bar in 1999.
Ms Anderson was in private practice with Francis & Forrest between 1999 and 2002 and with Attride-Stirling & Woloniecki between 2002 and 2006. From 2007 she served as Senior Legal Counsel in the Ministry of Economic Development and from 2014 she has also served as Acting Director of the Department of Telecommunications.
In 2006 Ms Anderson was sworn in as an Acting Magistrate and Coroner and oversaw a variety of cases from coroner's inquests to Traffic, and Drug Treatment & Mental Health Courts, Criminal and Family Courts.
Ms Anderson is a member of The Honourable Society of Lincoln's Inn. Ms Anderson has a keen interest in her community and divides her philanthropic time between Alpha Kappa Sorority Incorporated Bermuda Alumni Chapter where she currently serves as vice president and Assistant Head Deaconess at the Hamilton SDA Church. In her spare time she enjoys baking, reading and personal fitness.
She is married to Wayne Caines. They have a 19 year old daughter, Maxanne Caines II.
Read More About
Category: All, Court Reports, News