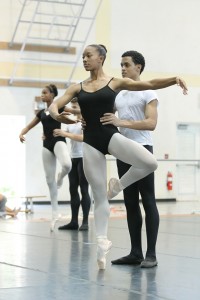 Five young men from the Jacqueline Kennedy Onassis School in New York will join 42 Bermuda dancers in a workshop production on Friday, August 19 that marks the culmination of Dance Bermuda 2011, a three-week intensive programme run by the National Dance Foundation of Bermuda in partnership with American Ballet Theatre (ABT).
The workshop production is designed to demonstrate what students have been studying during a concentrated curriculum that includes classes in ballet, pointe, partnering, modern and contemporary as well as Pilates. Works include dances from ABT's ballet repertoire as well as modern and contemporary choreography.
Many of the dancers performing in the workshop production participated in the Young Dancer's Programme, a customized syllabus tailored for the developmental needs of dancers aged 8 – 12. In addition to the five JKO young men, Upper Division dancers include scholarship recipient Fredrika Hill, who leaves shortly for her first year of study at the Boston Conservatory, and Krystal Smith, who has just been accepted into the Welsh Ballet in Wales.
There are two, one-hour DanceBermuda performances at the Jessie Vesey Centre of The Bermuda High School for Girls on Richmond Road. Tickets are $10.00 and can be reserved by emailing Programme Coordinator Akinyi Apopa at akinyi.apopa@gmail.com.
Read More About
Category: All