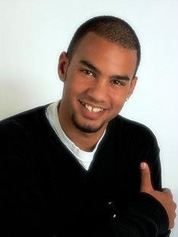 A young Bermudian performer appearing in an off-Broadway revival of the musical "Rent" has received a rave review from on-line gossip maven Perez Hilton.
Actor/singer Nicholas Christopher, son of Hamilton Crier Ed Christopher, was described as one of the stand-out cast members in the acclaimed New York show by the American blogger and television personality last week.
Mr. Christopher, who studied at Boston Conservatory and New York's Juilliard School, made his professional theatrical debut in the US earlier this year in the touring company of the Tony Award-winning Broadway musical "In The Heights".
"Rent" is a rock musical with music and lyrics by Jonathan Larson inspired by Giacomo Puccini's opera "La Bohème". It tells the story of a group of impoverished young artists and musicians struggling to survive and create in New York's Lower East Side during the 1980s under the emerging shadow of HIV/AIDS.
The musical was first seen in a limited three-week workshop production at New York Theatre Workshop in 1994. The same New York City off-Broadway theatre was also the musical's initial home following its official January 25, 1996 opening. The show's creator, Jonathan Larson, died suddenly the night before the off-Broadway premiere. The show won a Pulitzer Prize, and the production was a hit. The musical moved to Broadway's larger Nederlander Theatre on April 29, 1996.
On Broadway, "Rent" gained critical acclaim and won a Tony Award for Best Musical among other awards. The Broadway production closed on September 7, 2008, after a 12-year run.
The production at New World Stages featuring Mr. Christopher is the first New York revival of "Rent". It opened in August to ecstatic reviews.
"We had the pleasure of seeing on Monday night the new production of 'Rent' off Broadway" (but still in the Broadway district)," Perez Hilton posted on October 18. "What makes this staging special is that it was directed by Michael Greif, who directed the original Broadway production.
"Greif revisited the work he made famous and brought a new sense of urgency to it!
Excerpt from the "Rent" song "I'll Cover You" performed by MJ Rodriguez and Nicholas Christopher
"His use of space and the set (even though in a smaller theatre) was exceptional! We loved the multi-media touches and even the new dance elements to the show.
"This production was all about Greif's vision, and it was a lovely sight to see! And hear! Those songs are timeless!!!!
"We moved to NYC in 1996, just as the show became such an important moment in pop culture and Broadway history. We saw 'Rent' six times with the original cast and it remains one of our all-time favorite shows! This production was all about Greif's vision, and it was a lovely sight to see! And hear! Those songs are timeless!!!!
"The new cast was very capable. We especially liked Adam Chanler-Berat as Mark, Nicholas Christopher as Tom Collins and Corbin Reid as Joanne.
"… The theatre last night was FILLED with young people, something that would have made 'Rent's' father, Jonathan Larson, quite proud. It certainly made us very happy that such an important and powerful show was reaching a new audience!"
Nicholas Christopher And The Cast Of "Rent" Performing "Seasons Of Love"
Read More About
Category: All, Entertainment, Music, News