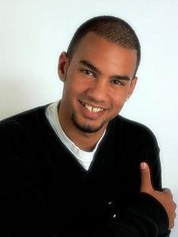 Bermuda-born actor/singer Nick Christopher — who has already appeared on stage at Carnegie Hall – is receiving positive reviews for his musical theatre debute as the love interest  in the US national tour of the Broadway musical hit "In The Heights."
Mr. Christopher, who attended Walnut Hill School For the Arts in Massachussetts and the Boston Conservatory, studied musical theatre at the prestigious Juilliard School of Music in New York.
He was signed to appear in the musical straight out of Juilliard and began the tour on November 2 with an itinerary that will take him to 10 stops across the United States and Puerto Rico.
The original production of "In the Heights" won four 2008 Tony Awards, including Best Musical.
"In The Heights" tells the story of tells of two immigrant families in the barrio of Upper Manhattan's primarily Latino Washington Heights. Mr. Christopher — described as "wonderfully tender and affecting" in one Michigan newspaper review — plays Benny, who falls in love with the daughter of his employer at a Latino-owned taxi and limousine business.
But because Benny is not from a Latin culture and can barely speak Spanish, his boss decides he is not good enough for his daughter and keeps the star-crossed lovers apart.
"It's a fusion of all the things I love about theatre and my type of music: rap, hip-hop and R&B," said Mr. Christopher, who said he could identify with the show's theme about the immigrant experience in America.
Mr. Christopher is shown below in an amatuer video singing "Some Enchanted Evening" from the 1949 Rodgers and Hammerstein musical "South Pacific" when he was a student at the Boston Conservatory in 2008:
Read More About
Category: All, Entertainment, Music