The National Museum of Bermuda has published a spectacular new book showcasing Bermudian artist Graham Foster's mural at Commissioner's House, Dockyard.
The large-format edition, "Hall of History: Bermuda's Story in Art" showcases the unprecedented 1,000-square-foot artwork in 208 dazzling, full-colour pages.
With text by award-winning Bermudian author Rosemary Jones, the 14-x-14 book brings alive the island's 500-year human history, from the Age of Discovery to the 21st century.
Every inch of the giant mural is reproduced, including graphic features of flora and fauna, historic and contemporary personalities, milestone events from Bermuda's past, plus nostalgic flashbacks and folklore.
Interpretive commentary provides background and context for the volume's lavish spreads, compelling vignettes and zoom-in highlights that offer a closer look at key areas. A four-panel foldout at the back of the book dramatically recreates the four walls of the mural itself, giving readers a visual sense of how Mr. Foster let the story unfold.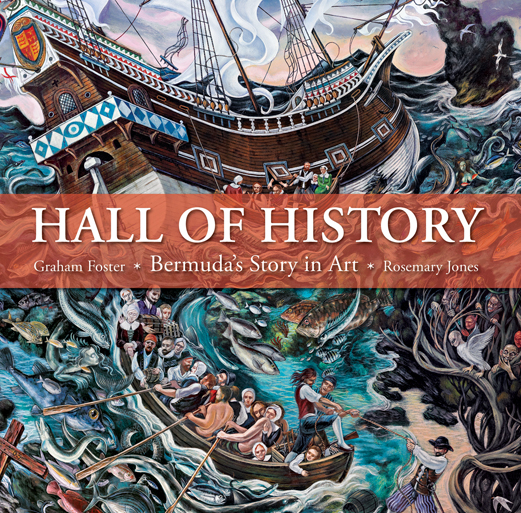 "The Foster Mural will add much to an abiding sense of place, national identity and a unique culture for generations to come—and we hope this book achieves the same," says Dr. Edward Harris, executive director of the museum. "We are very proud this book will carry Graham Foster's artistic ingenuity beyond the Museum, and even Bermuda."
Supported through a gift from the Truland Foundation and produced by Brimstone Media, the book also describes the artist's creative process to produce the mural—a feat that took him three-and-a-half years.
The artwork, funded by Bermuda residents Richard and Helen Fraser, opened to the public at the National Museum of Bermuda in 2009, and was officially unveiled by the Queen during her visit to commemorate the Island's 400th anniversary.
"The mural for Bermudians is a mirror—when we look into it, we see reflected images of ourselves, our fellow citizens and everything we might cherish or deplore about the heavenly, but imperfect little island we call home," writes Ms Jones in one of the book's final chapters. "It is designed to reinforce who we are as Bermudians, together with the myriad journeys that led us here."
"Hall of History" retails for $65 and is available at the National Museum of Bermuda ticket office, or by emailing Dr. Edward Harris (director@bmm.bm), and at stores islandwide.
Book-signing events will be held in December at Bermuda National Gallery, Bermuda Society of Arts, the Masterworks Foundation and the Arts Centre at Dockyard, among other venues.
Read More About
Category: All, Entertainment