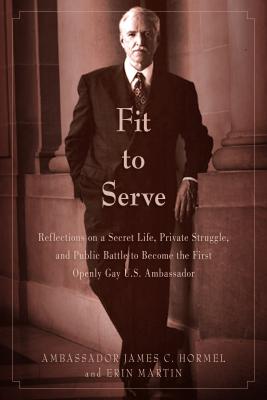 James Hormel, the openly gay San Francisco philanthropist, says he could have likely avoided a nasty Capitol Hill battle over his nomination as former President Bill Clinton's ambassador to Luxembourg if he had instead accepted an offer in 1997 to become the consul general in Bermuda.
Three years earlier former President Bill Clinton's decision to name the heir to the Mid-West meat-packing fortune as ambassador to Fiji sank under opposition by officials in the South Pacific country and a Republican takeover of Congress in the fall of 1993.
Undeterred, Mr. Hormel continued to lobby for a diplomatic post.
He was named a delegate to the United Nations' Human Rights Commission in Geneva as he sought to bolster his resume. Then came the offer of the Bermuda post, which did not require as extensive Congressional vetting as an ambassadorship did.
"Yet Hormel saw Bermuda more as a vacation on a tropical island than a serious foreign policy assignment," reports a San Francisco newspaper today [Nov.3]. "If he accepted it, the Clinton administration 'would think that they had done all they needed to do for me, and by extension, the Lesbian Gay Bi-Sexual and Transgendered constituency'."
"Senator Dianne Feinstein, a longtime friend, counseled Hormel to accept the Bermuda position. Republicans were dead set against seeing an out gay man be confirmed an ambassador, she warned, and would eat him alive."
Mr. Hormel declined the Bermuda post, saying he was "too naive to conceive of the assault the far right would launch against".Then on October 6, 1997 Clinton named Hormel ambassador to Luxembourg.
He recounts the episode in his new memoir "Fit to Serve: Reflections on a Secret Life, Private Struggle, and Public Battle to Become the First Openly Gay US Ambassador".
It recounts the anti-gay character assassinations Hormel faced as religious conservatives set out to torpedo his confirmation by the US Congress.
Religious leaders attacked him as unfit to serve and several Republicans placed holds on his nomination due to the anti-gay attacks. President Clinton eventually used his recess appointment power to bypass the Senate altogether. Thus on June 29, 1999 Mr. Hormel became America's first out ambassador.
Shortly after President Clinton won the 1992 election, Hormel had dinner with Bob Farmer, at the time the Democratic Party's national treasurer. Mr. Farmer was the first to suggest Hormel seek a presidential appointment.
Mr. Farmer, who is gay, was in fact named consul general to Bermuda in 1994 and served until 1999. Out to Clinton and other officials in Washington, Mr. Farmer did not publicly discuss his sexual orientation until years later in an interview with the "Advocate" magazine.
He said during his service in Bermuda he used "discretion" in determining whether to take his male partner to events.
Mr. Hormel, on the other hand, felt he was in a position in life where he could be out and force the country to discuss if a gay person could be a direct representative for the President.'
Mr. Farmer's five-year stint was well received in Bermuda. He is credited with improving the American Consul General office's relations with Bermuda.
He did a "magnificent job", said one Bermuda newspaper upon his retirement: "No previous Consul General and certainly no Bermudian public figure in recent times has managed to make so many friends and such a wide range of contacts throughout Bermuda."
Read More About
Category: All