[Updated] Although she was not among the Miss World competition's finalists, Miss Bermuda Jana Outerbridge captured the attention of a world-wide TV audience this afternoon dressed in a  Gombey-inspired costume as all 113 contestants demonstrated their countries' traditional dances.
She received extensive television coverage for her colourful Gombey garb, complete with feathered head-dress. Miss Outerbridge was presented with the costume at the airport prior to leaving for the UK, as shown below:
The 61st Miss World show was broadcast live from London's Earls Court to a global audience of more than one billion.
Miss Outerbridge, who represented St. George's in the Miss Bermuda competition, failed to make the 20 when they were announced earlier this afternoon.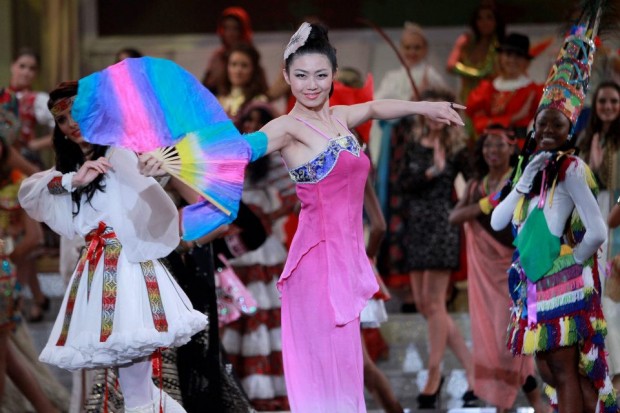 The finalists were later reduced to just seven finalists: Miss Scotland, Miss South Africa, Miss Puerto Rico, Miss Philippines, Miss Korea, Miss Venezuela and Miss England.
Miss Venezuala was crowned Miss World with Miss Philippines as first runner-up and Miss Puerto Rico as second runner-up.
When her overall points were added up, Miss Outerbridge came 76th out of the 113 competitors in the two-week competition. She bested competitors from countries including Argentina, Germany and Portugal.
After the demonstration of traditional dances — a high point of the show — Bermudian David Sinclair Minors posted at the Miss World Facebook page: "Gombey Power= Love Ms Bermuda!!!"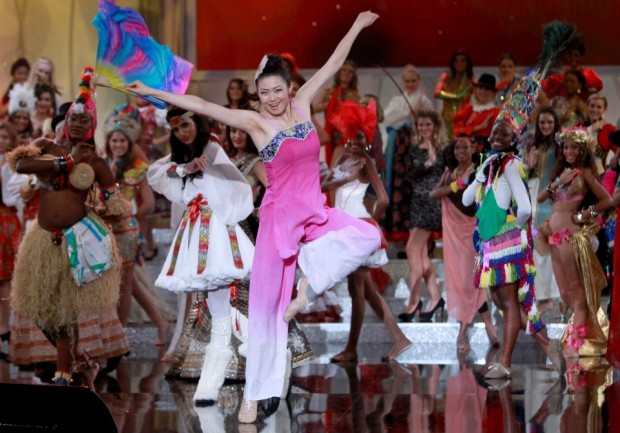 Earlier in the competition Miss Outerbridge had ranked in the Top 36 in the competition's  "Beach Beauty" qualifier.
An accomplished equestrian, Ms Outerbridge has competed in many local show jumping competitions including the Annual Exhibition.
She has represented Bermuda internationally through the Bermuda Equestrian Federation and was a member of the gold medal winning team which competed in the 2004 Caribbean Equestrian Association.
While in university in Tennessee, she was voted Miss SOCA [Students Of Caribbean Ancestry 2008/9], Miss Delta Sigma Theta Sorority Inc. [2009/10]. She also won a university modeling competition and was named "Miss Allure Modeling Troop" 2010.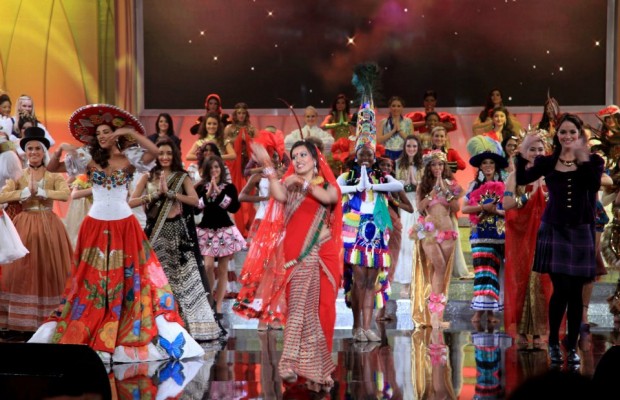 She volunteers at the WindReach Recreational Village on Saturday mornings working with disabled children.
Ms Outerbridge is also a past Bermuda International Business Association [BIBA] top speed interviewee, danced at Somerset School of Dance and received the Duke of Edinburgh Award Programme silver medal.
The daughter of Gregory Outerbridge Sr. and Glenda Outerbridge, she said her favourite quotation is: "Why strive to be good when you can strive for greatness?"
Before being crowned Miss Bermuda, she commented: "If I am fortunate to be the next Miss Bermuda and even if I am not I want the people of Bermuda to know that it is never too late to achieve any goal you set in life. It only takes one person to believe in you and that one person is you.
"As individuals if we work to make positives changes it can only have a positive impact on our island.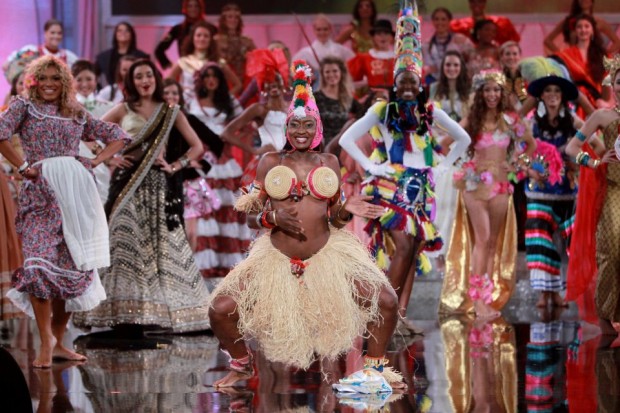 "We must all begin to take responsibility for the current state of our island and work diligently to make it an even better place for current generations and those to come."
Thirty-two years ago, when the Miss World was also held in London in November, Bermuda's own Gina Swainson won the crown, marking the first — and only — time a Bermudian won a major beauty pageant.
Earlier in 1979 Miss Swainson had been first runner-up at that year's Miss Universe pageant.
Ms Swainson remains the joint highest placed woman to have competed at both international pageants.
Read More About
Category: All, News, Style & Beauty