[Updated] This afternoon [Nov.30] the Progressive Labour Party held a press conference and confirmed that Vance Campbell will represent them in Constituency #9 Smiths West.
The seat is presently held by the One Bermuda Alliance's Trevor Moniz, who will contest the seat again in the next General Election. In 2007, Mr Moniz – under the UBP – won with 58.50% of the vote against the PLP's Larry Mussenden [506-357].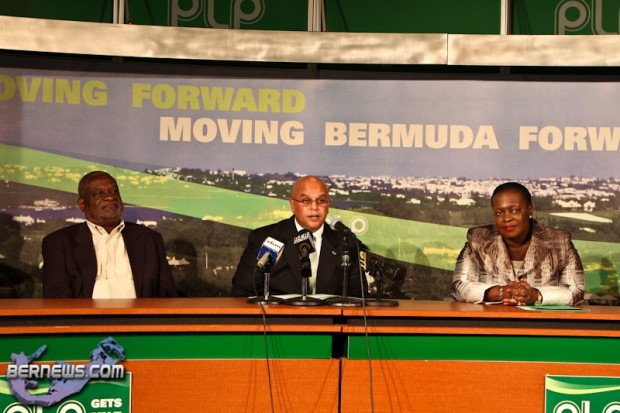 Mr. Campbell attended Saltus Grammar School. Upon his graduation, he attended Franklin & Marshall College in Lancaster, Pennsylvania, where in 1982 he received a Bachelor of Arts Degree in Business Administration, with a Minor in Cultural Anthropology.
Mr. Campbell has been involved in various charitable and community based organizations in Bermuda, which have kept him in touch with the challenges facing teens, families and seniors of Bermuda. He is the Vice President of the Foster Parents' Association, a former Club Leader and current Committee Member of Young Life Bermuda.
He is an Executive Member of the Youth Committee of Young Men's Social Club, and is also a member of the Management Committee at that Club. Professionally, Mr. Campbell is a Certified Public Accountant with over twenty years post qualification experience.
He currently holds the position of Chief Financial Officer at S.A.L. Trading Limited. Prior to this position, he was the General Manager of the Bermuda Housing Corporation from 2003-2006. He sits as the Chairperson of the Consumer Affairs Board and also is a Trustee of the Bermuda Housing Trust.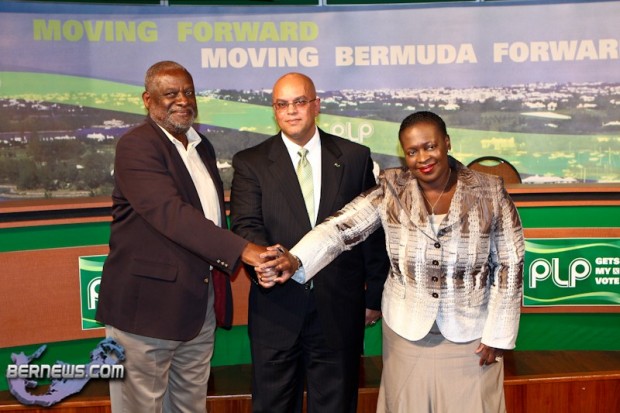 The PLP candidates either confirmed, or selected in branch meetings, thus far include: Dennis Lister [C#35], Kim Wilson, [C#34], Randy Horton [C#32], Scott Simmons [C#31], Stephen Todd [C#30], Zane DeSilva [C#29], Jonathan Smith [C#28] Lt. Col David Burch [C#27], Lawrence Scott [C#24], Darius Tucker [C#23], Rolfe Commissiong [C#21], A.L Vince Ingham [C#19], David Burt [C#18], Walton Brown [C#17], Diallo Rabain [C#7], Wayne Furbert [C#6], John Gibbons [C#2], and Dame Jennifer Smith [C#1].
Update 3.56pm: Mr Campbell's full statement follows below
Good Afternoon Madam Premier and Party Leader, Government Ministers, Members of Parliament, Senators, Party Executive, Branch Chairman, Party Members and the Voters and Residents of Smith's West.

Why have I offered myself as a candidate in the next election? The answer to this question is simple. As a father and someone who volunteers with several organizations that focus on the young people of Bermuda, I felt obligated to become involved in the political process that will continue to shape the Bermuda that our children will inherit and I belief my education and business background, along with my community involvement and life experiences, have prepared me well for this step.

I am a Certified Public Accountant with over twenty (20) years post qualification experience across a wide spectrum of industries and currently hold the position of Chief Financial Officer with S.A.L. Trading Limited.

I am the Chairman of the Consumer Affairs Board and a Trustee of the Bermuda Housing Trust which builds and manages housing units for seniors. My success as the General Manager of the Bermuda Housing Corporation during 2003-2006 is a testament to my leadership skills and my ability to make critical and tough decisions during difficult times.

My roles with various charitable and community based organizations have kept me in touch with the every day challenges facing the teens, families and seniors of today's Bermuda.

I am the Vice President of the Foster Parents' Association, a former Club Leader and current Committee Member with Young Life Bermuda, an Executive Member of the Youth Committee of Young Men's Social Club and also a Member of the Management Committee at this Club.

One of the main objects of the Bermuda Progressive Labour Party since its inception has been "to work for and promote the political, economic, social, environmental and cultural progress of the people of Bermuda and to encourage their participation in all facets of life in the country". The influence of this core value is evident in the details of the 2011 Throne Speech.

The 2011 Throne Speech is a coordinated and cohesive plan of action and I am honoured to run as a Progressive Labour Party candidate as I believe the Premier and Party Leader has assembled a talented team, the best team, to successfully lead Bermuda through the challenges it currently faces.

To the Constituents of Constituency #9 Smith's West, I look forward to meeting you, hearing your concerns and discussing, formulating and affecting solutions. I have family and friends that live in the Constituency and I live and work next door in Constituency #11.

Although I am new to Politics, I have a wealth of relevant experience to draw upon in meeting and serving your needs. In addition to this, I bring energy, enthusiasm and a preparedness to roll up my sleeves and work for you. My office will be your streets and neighbourhoods as we work to "build one another together".

Thank you
Read More About