[Updated with video] The One Bermuda Alliance hosted a press conference this afternoon [Nov.22] to introduce three new candidates; Sylvan Richards, Gaylynne Cannonier and Senator Michael Dunkley.
Sylvan Richards will be running in Constituency #7 Hamilton South, where the PLP has already selected Diallo Rabain was selected to stand as their candidate for Constituency #7. PLP MP Darius Tucker presently holds the seat, however he was originally elected under the UBP – beating the PLP's Wayne Caines 547 – 420 in 2007.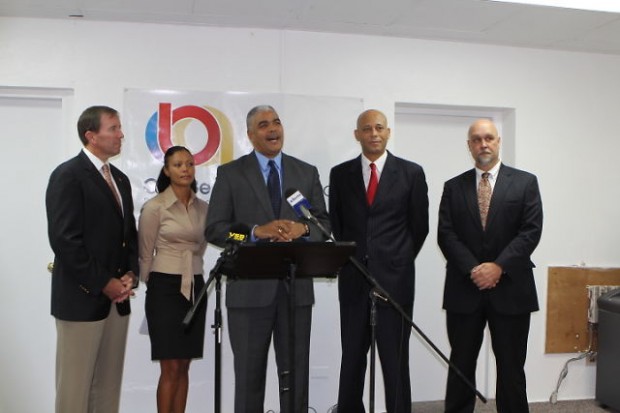 Gaylynne Cannonier – OBA leader's Craig Cannonier's sister – will be running in Constituency #3 St David's, which is presently held by the PLP's Lovitta Foggo, who bested the UBP's Suzann Roberts Holshouser in 2007 with 54.27% of the vote.
Senator Michael Dunkley will be contesting Constituency #10 Smiths North. Minister Patrice Minors presently holds the seat, after besting Sen. Dunkley – who was then running under the UBP's banner – 536 votes to 444 in 2007.
The OBA had previously confirmed four candidates: Anthony Francis in Devonshire North Central [C#13], Toni Spring in Sandys South [C#33], Trevor Moniz in Smiths West [C#9], and Craig Cannonier in Devonshire South Central [C#12].
Mr Cannonier's full statement follows below:
Good afternoon and welcome.

I'm delighted to have you here for the announcement of three new candidates for the One Bermuda Alliance.

They are the first in a series of candidate rollouts that we've scheduled for each Tuesday and Thursday over the next three weeks.

Before I introduce them, I want to say that our team is excited and energized by the mission to get Bermuda back on its feet where it is once again working for everyday people.

We are committed to ending unemployment, making our communities safer and equipping our children with the education they need to succeed.

To achieve the goal of a better Bermuda, people will need to embrace change; and that change begins in each and every constituency with the election of candidates whom people trust to represent their views and make their lives better.

Without change, without elected representatives who are committed to changing the direction of this country, we will only get more of the same.

That is the decision the people of Bermuda will be asked to make at the next election: change versus more of the same.

The One Bermuda Alliance was formed to bring about change to reverse Bermuda's downward trend and get it working again.

With me today, are three candidates who have the strength, background and character to fight for the kind of change Bermuda needs.

The first is Ms Gaylynne Cannonier, who will stand for the OBA in Constituency 3, St. David's. Gaylynne is an entrepreneur, businesswoman, teacher and a St. David's Islander born and bred. She is also my sister. I am really proud that she is standing here today and I can assure Bermuda that she is strong, smart, with a good heart and totally committed to getting Bermuda working again. I can list these attributes without fear of contradiction because I know firsthand that they run in the family.

The second candidate is Mr. Sylvan Richards. He will stand for the OBA in Constituency 7, Hamilton South. Sylvan is a businessman who has worked for years in the international business sector. He brings to the table expert understanding in the way Bermuda's economy works and quiet determination to make things happen and work better. Welcome Sylvan.

Our third candidate is no stranger to Bermuda – Senator Michael Dunkley, who will stand for the OBA in Constituency 10, Smith's North.

Michael has always been the strongest advocate for Bermuda. He is also a politician who stays very close to the people. The people of Smith's North already know this, because Michael has been on their doorsteps and in their neighbourhoods, every week, for quite a few years now.

These are good strong candidates who will represent people well and put Bermuda first in all things.

I would now like to ask each of them to say a few words. Gaylynne…

Sylvan…

Michael
-
Sylvan Richards' full statement follows below:
Sylvan Richards – OBA candidate statement, November 22, 2011
Good afternoon. My name is Sylvan Richards Jr. and I will be running asthe One Bermuda Alliance candidate for Constituency 7, Hamilton South.
I have joined the OBA team because I believe it represents Bermuda's best opportunity to get our country working again.

I say that with conviction, because I have been in the room working with my OBA colleagues for some time now, developing strategies and plans aimed at providing relief and hope for the people of Bermuda.

I have been impressed by the OBA's commitment to do the right things for our Island. I have been positively impacted by their optimism and confidence in Bermuda, despite the hard times we are facing.

Having worked in business all my professional life, mostly in the international sector here in Bermuda, I am well prepared to join the OBA's experienced finance team, to work on and provide solutions for Bermuda's current social and economic ills.

This is a group of men and women who are totally committed to making our economy work again by growing jobs, ending unemployment and creating new career and job opportunities for Bermudians, from all walks of life.
As for myself, I am determined to do whatever I can to assist in improving the lives of the people of our country. Only by reaching out to help our suffering brothers and sisters can we achieve and maintain the highest levels of success. My hope is to inspire others who are concerned with the current state of Bermuda, to join with us to bring real, meaningful change to Bermuda.
I am totally confident the OBA can deliver Bermuda that change;

change in the way we work together as Bermudians and change in the way we conduct business as a country.

It is my view, and it is certainly the view of my colleagues, that Bermuda cannot continue down the path it is currently on. The OBA represents the change this Island desperately needs. It is the sole reason why I am here today.

I am excited to be a member of the OBA team and am looking forward to running as their candidate in Hamilton South, Constituency 7.
To the people of Number 7, I look forward to meeting with you, talking with you, and hearing from you how we, working together, can improve the quality of life in your neighborhoods and in our beloved Bermuda.
I consider myself your public servant, and my first duty is to represent your views and your concerns and then work to ensure that the OBA delivers to you an effective, efficient government that works.
The OBA is committed to transforming your government, to make it more open, more transparent and more accountable to you.

I am excited to be a part of a political party and a government-in-waiting that will never forget that its first duty is to the people of this country.
That for me is the essence of the OBA, and it is the reason I am running to represent the people of Constituency 7, Hamilton South.

Thank you for your time.
-
Gaylynne Cannonier's full statement follows below:
It is an honour today to become part of the One Bermuda Alliance team, and a privilege to have the opportunity to serve the people of St. David's as the party's candidate for Constituency 3.

I am a born and raised St. David's Islander. My family is centred there; our lives were shaped by living there. It is a unique, warm-hearted and proud community.
I can think of no higher calling than to be their representative in Parliament and in government.
I decided to step forward as a candidate for public office because I believe the problems facing Bermuda are too serious to stand on the sidelines.

I admit that I hesitated about stepping forward because of my brother's position as leader of the One Bermuda Alliance, but then thought that was no reason to hold back.
I care just as deeply about Bermuda. My concerns run just as deep and my belief in a better tomorrow is just as strong.

On that point, I want thank OBA chairman Thad Hollis and the candidate selection committee for approaching me and having the faith in me to stand for the party.
I have watched the OBA since its beginning and believe its Bermuda-first values will serve the Island well in good times and hard times.

I am genuinely concerned and passionate about the future of our island. I have faith in our people, but progress and forward movement have been lost under the current government.
We have to do better than we've been doing, and that means change. Without it, we're just going to end up with more of the same.

I believe the One Bermuda Alliance has the right blend of energy, ideas and optimism to get Bermuda back on track, to get it working again for people.

I fully support the party's commitment to changing the way Bermuda operates; to giving people greater say in the work of the country; to making our politics more collaborative and less confrontational; to ending unemployment and growing opportunity.
From my extensive travel, my years abroad and my education, I have seen how important it is to change and adapt.

I have also seen how important it is for communities to work together, to listen to each other, regardless of background; to come together rather than remain apart.
This is what the One Bermuda Alliance stands for.

As a small business owner, I understand the challenges Bermuda businesses face. I also understand the value of a job.

These are the attributes and experience I can offer the people of St. David's.

I will listen. I will be available. I will stay in touch and I will be part of a team that will end the downward spiral Bermuda is in. We can do it, we just have to believe in change and do it.

To the people of Bermuda I am ready to serve; to the people of St. David's, I am ready to represent you.
Thank you.
-
The Premier has not yet called an election, however is widely expected to take the Island to the polls in coming months, with many pundits speculating there may be either a Christmas or Summer election.
The last general election was held on December 18, 2007, and saw the Progressive Labour Party win a third term in power with 22 seats, compared to 14 for the United Bermuda Party.
Read More About