Bermudian De'Jon Simons officially released his first book 'Memoirs of My Scars', with a book signing yesterday [Nov.12] at The Bookmart. Locals deluged the store until all the copies for the day were sold, and after the book signing finished the list of names of people who came looking to purchase the book continued to grow.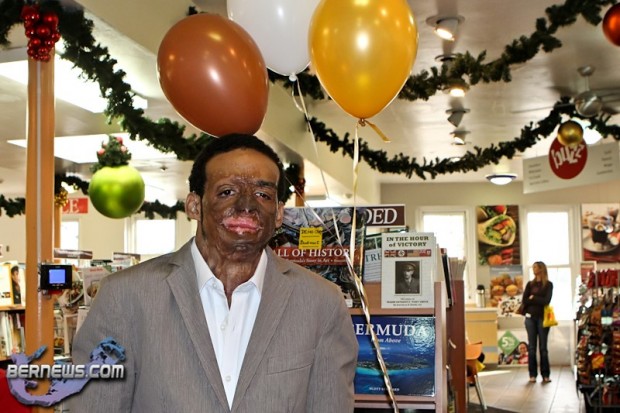 Mr Simons was involved in a horrific traffic accident in 2004 in which his bike caught fire and almost burned him alive. The then 16-year-old received third degree burns to over 90% percent of his body, spent over a year in hospital, including six months in a coma, and was initially given less than a 5% chance of survival.
'Memoirs of My Scars' is an intimate collection of poetry that follows his path of self-acceptance and self-expression. The first piece, entitled "I Am Not My Skin", introduces readers to his world of isolation and pain but the poem ends with the revelation that there is more to Mr Simons than his outer appearance.
Speaking after his book signing yesterday, Mr Simons said, "So many people came in, I am just wowed myself, it was an amazing feeling, people actually came in to support me. It was a great feeling. As you can see we sold out."
Books will be available again at The Bookmart next week, and are also available online for $23.50 in the CKC Bookstore at www.ckccorporation.com. The book will be delivered to Hamilton, Warwick, St. George's and Somerset, by request.
The interest in Mr Simons book spans past Bermuda's shores, with online orders having already been received from Australia, Canada, United Kingdom and the United States.
Mr Simons plans to release his second book in 2012.
Read More About