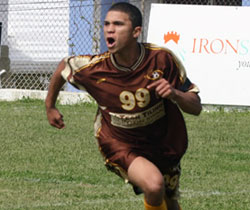 Bermuda's Nahki Wells had another big performance on the football field, this time scoring to put his U.K. team up 1 – 0 in the opening two minutes of the game this afternoon [Dec.26].
Striker James Hanson then scored twice as Bradford City gained their biggest win of the season with a 3-0 victory over Crewe this Boxing Day.
In only the second minute of play, the Crewe defender's attempted clearance hit Nahki Wells, who headed the ball over the goalkeeper and into the far corner.
Wells took another strike at goal in the 26th minute of play, however it was saved by the keeper. The game was played at the Coral Windows Stadium, with over 11,000 fans in attendance.
The 21-year-old former Dandy Town star has garnered plenty of attention in recent months after scoring two key goals, for two different teams, in less than three days.
On November 12th Wells came off the bench and scored a blistering long distance shot that put Bradford City into the next round of the English FA Cup after they defeated Rochdale 1 – 0. Two days later, after flying to Bermuda, Wells took to the field with the Bermuda National Team and scored another long range shot to help Bermuda defeat Barbados 2-1.
Read More About