[Updated with videos/statements] The One Bermuda Alliance today [Dec.1] introduced three candidates who will represent the party at the next General Election — R. Wayne Scott, Suzann Roberts-Holshouser and Donte Hunt.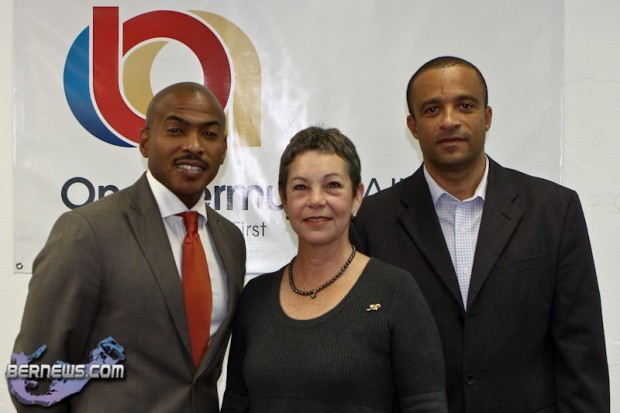 Incumbent St. George's Member of Parliament Donte Hunt will switch seats and challenge the Progressive Labour Party's Wayne Furbert in the Tourism Minister's Hamilton West constituency.
Mr.  Hunt will stand for the OBA in Constituency #6 which Mr Furbert won as a United Bermuda Party candidate in 2007, defeating the PLP's Charles Clarke with 54 percent of the vote [530 votes to 451].
Meanwhile former UBP and Bermuda Democratic Alliance member R. Wayne Scott will go head-to-head with the former National Security Minister when he takes on the PLP's Lt. Col David Burch in Warwick North Central.
Donte Hunt, Suzann Roberts-Holshouser, OBA Leader Craig Cannonier, Wayne Scott: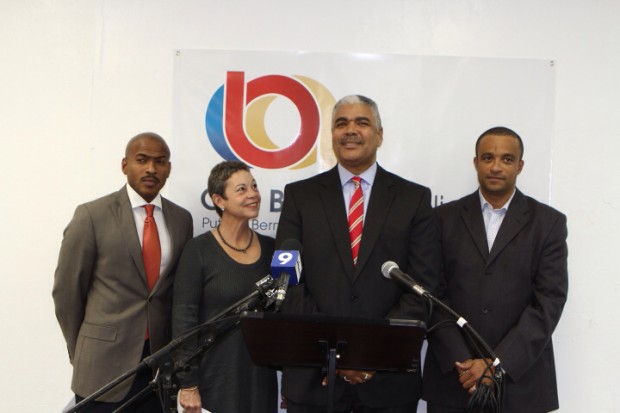 Mr. Scott unsuccessfully contested Constituency #27 Warwick North Central at at the last General Election running under the UBP banner.
In 2007 he was bested there by the PLP's Elvin James, who won with 535 votes to Mr. Scott's 418. The PLP have already selected Lt. Col. Burch as their candidate for Warwick North Central at the next election.
Former UBP St. David's MP and Senator Suzann Roberts-Holshouser will represent the OBA in Constituency #4 , St. George's South, the seat presently held by Donte Hunt.
In 2007 Mr Hunt, running as a UBP candidate, won there with 51.1 percent of the vote, defeating the PLP's Phillip Perinchief [544-519].
Video – OBA Leader Craig Cannonier introduces the candidates:
The Opposition previously confirmed thirteen candidates who will stand at the next election: Ray Charlton in Sandys North [C#36], Toni Spring in Sandys South [C#33], Shawn Crockwell in Southampton West Central [C#31], Jeff Sousa in Warwick West [C#28], Ras Mykkal in Warwick South Central [C#26], Mark Pettingill in Warwick North East [C#25], Jeanne Atherden in Pembroke West [C#19], Anthony Francis in Devonshire North Central [C#13], Craig Cannonier in Devonshire South Central [C#12], Michael Dunkley in Smith's North [C#10], Trevor Moniz in Smith's West [C#9], Sylvan Richards in Hamilton South [C#7], and Gaylynne Cannonier in St David's [C#3].
Video – All three candidates introduce themselves & media Q&A:
Donte Hunt's full statement follows below:
Bermuda is in desperate need of a fresh start; a fresh start that will breathe hope into our hearts and yield opportunities for all.

As a father and husband, I know firsthand the struggle many of us face today. I am committed to doing all I can to ensure that Bermuda moves forward to a place of peace and prosperity.

I am supported in my goals by my colleagues in the One Bermuda Alliance, who are equally committed to making sure Bermuda and its people flourish and succeed again.

The OBA believes Bermuda needs to change if we are to overcome the challenges Bermuda faces.

And it is for this reason, I have decided to answer the call of my party to move from Constituency 4 and run in Hamilton West, Constituency 6.

I have spent the past four years representing and serving the great people of St. George's South. I have a real fondness for the times I spent with them. There were many successes and many good moments, but the need to put the OBA into a position to win the Government is paramount and I believe I can help that with this move to Constituency 6.

I am excited by it. Hamilton West is where I spent much of my formative years, but also where my wife was born and raised. Constituency 6 is also the home of much of my family as well as my wife's family…not to mention it has an extra special place in my heart because it is where I lived when I first got married.

My time as a Member of Parliament in the House of Assembly has been focused primarily on the support and nurturing of all families. The OBA and I remain steadfast in our commitment to this agenda and to the task of getting this Island back on track where it is working better for our people.

I should add that Suzann is a caring, hard-working person who shares my hope to make sure families are safe and that the Government creates conditions that help people live productive and fulfilling lives. In addition, Suzann has strong ties to Constituency 4. I know she will be an outstanding representative.
-
Suzann Roberts-Holshouser's full statement follows below:
I am proud to stand beside Craig Cannonier, Leader of the One Bermuda Alliance, and my colleagues, who, like me, recognize it is not enough to simply complain or sit on the sidelines and wait for someone else to step forward to serve Bermuda and her people.

We are a team that is dedicated to getting this Island back on track where it is working better for the people.

I look forward to representing the people of St George's South, Constituency 4. It is where I live and where I serve my church as a Vestry Member and Licenced Eucharist Administrator.

My commitment to the people of St. George's South is simple and straightforward: I will be there at all times to act on your concerns and to echo your views in Parliament and in the halls of Government.

I will fight for safer communities and safer homes. I will fight for and support policies that create jobs and grow paycheques, And I will fight for stronger, more dedicated efforts to give our children the education they need.

In 1998, Bermudians brought change to the Island though the ballot box.

In 2011, we can do it again.

The birth of the One Bermuda Alliance has made change possible. But it is up to you the voter to help change the direction Bermuda is travelling down under the current Government.

Right now, I think everyone knows Bermuda is on the wrong path; saddled with problems such as the Government's massive debt that hurting people every day.

You can see it in transportation cancellations that create problems for people, job lay-offs that hurt families and careers, overtime cancellations that hurt people's ability to pay their bills, funding cuts to charities that are dedicated to helping people in need. The debt problem even extends to road surfaces breaking down because of lack of money to pay for their maintenance.

It's time for change. We cannot stand still, do nothing different and expect different results.

Bermuda needs a fresh start, a fresh team to deal with the problems we've been saddled with and I am proud to be part of a team that is dedicated to restoring the health, strength and spirit of our people and our Island.

I look forward to meeting all residents of St. George's South during the weeks and months ahead, to listening to your ideas and recommendations as we work for change to improve your lives and the future of our Island home.
-
R. Wayne Scott's full statement follows below:
I am proud to be a part of a team that is committed to put Bermuda first, for this has been my mantra within Warwick North Central, Constituency 27.

Over the last 5 years, as I have worked within the Warwick North Central community, my primary message has been that it's about the people, not me, period.

My role in giving service to the people is to represent THEIR views. I believe that many today in politics have lost sight of this simple fact. Representing the people is about them. It is NOT about you.

As Bermuda faces unprecedented issues with our economy and employment; challenges with crime and education – which are very closely related; and a need to rediscover what has always set Bermudians and Bermuda apart – what has truly made Bermuda "Another World"; we need leadership that is open, transparent and responsive; We need leadership for the people, dedicated to their concerns, their interests and their needs.

But to get that, we need change.

I put myself forward in service to the people of Bermuda, especially within Warwick North Central, with a commitment that it be about you.
-
Read More About