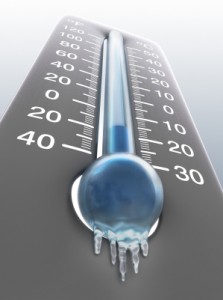 Bermuda became a genuine winter wonderland early this morning [Dec.19] — experiencing a record low temperature when the thermometer plunged to 54F/12.2C at 2am during a powerful storm.
As gale-force winds pounded the island during the wee hours the mercury dropped with Bermuda Weather Service meteorologist James Dodgson saying: "The lowest temperature recorded here at the airport was 12.2 Celsius or 54.0 Fahrenheit.
"This occurred at around 2am local time this morning around a hail shower. This temperature provisionally ties the record low for today, previously recorded in 1991."
The lowest temperatures ever reached in December was 48F/9C in December of last year, as well as 50F/10C which in 1955 and in 1962. The Bermuda Weather Service [BWS] climate records date back to 1949.
The forecast for the remainder of the day is for more blustery weather, although conditions should improve before nightfall.
"The windy conditions will gradually ease this afternoon and into tonight as high pressure builds in from the west," said the BWS.
"Mainly dry conditions are developing and are expected to continue through much of the week as the centre of the high drifts east over our area. The cool temperatures will gradually recover."
Read More About