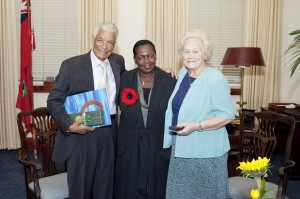 Legendary Bermudian actor Earl Cameron said those who don't bother to read books or plays have no real advantage over those who cannot read at all when he took part in the London borough of Brent's month-long celebration of literacy in November.
British broadcaster Alex Pascall interviewed Mr. Cameron, 94, in front of an audience about his 70-year acting career, his abiding love of literature and black contributions to Western culture at one of the borough's WordUp festival events held at London's Willesden Green Library on November 2 [Mr. Cameron is pictured here with wife Barbara and Premier Paula Cox during a visit to Bermuda last year].
The actor recited a soliloquy from "Othello", William Shakespeare's play about an African general brought low by jealousy — a role he said he would have loved to performed on the London stage but couldn't during the days of the "colour bar" in UK film and theatre.
Born in Pembroke in 1917, Mr. Cameron was one of the first prominent black actors in the British entertainment industry. Still working, some of his more recent film roles include a major appearance alongside Nicole Kidman in 2005′s "The Interpreter", a cameo as a royal portrait painter in "The Queen" with Helen Mirren and a part in the 2010 Leonardo DiCaprio science fiction blockbuster "Inception."
Other celebrities who participated in Brent's WordUp celebration of literature and literacy included cricketer Henry Olonga and boxer Errol Christie.
Excerpts From The London Interview With Earl Cameron
Read More About
Category: All, Entertainment, Films/Movies, Videos