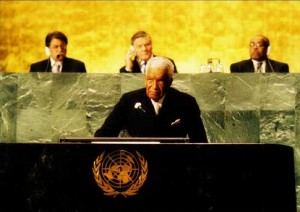 A simple yearning to see the world which existed beyond Bermuda's shores prompted legendary local actor Earl Cameron to embark on what became a life-long odyssey of self-discovery, breaking down barriers and learning, he told a British newspaper.
The pioneering actor who shattered the colour bar in British film and TV in the 1950s — and who at 93 continues to work in such Hollywood blockbusters as "The Interpreter" (2005 ) (he is pictured in a scene from that film at left)and "Inception" (2010) — recently told "The Birmingham Post" it was wanderlust which prompted him to sign on as a crew member in the British merchant marine just prior to the outbreak of the Second World War in September, 1939.
"We dropped anchor off the Mersey, just as the first heavy bombing raid began on Liverpool," he said. "I was hoping by some chance to get to Bermuda again. But I ended up in London and when the train was pulling into Euston I thought, 'This feels like home'. I resigned myself to staying there during the Second World War."
Stranded in the British capital and working at several kitchen jobs, Mr. Cameron said his trail-blazing acting career began by chance — he bumped into an actor friend from a West End show called "Chu Chin Chow" (based on Ali Baba and the 40 Thieves). Mr. Cameron joked he ought to be in the cast — and soon he was.
"When one actor fell ill, my big chance had come at the Palace Theatre, Cambridge Circus," says Mr. Cameron told the newspaper. "Half an hour later I was singing with no voice coming out, my knees trembling and sweat pouring down my face. I was terrible – but I thought 'this is better than cleaning dishes, I'm now in showbusiness'."
As a member of ENSA – The Entertainments National Service Association –Mr. Cameron entertained Allied troops in the United Kingdom thoughout World War Two but did return to Bermuda for five months after the war — only to tell his mother he was leaving permanently. She said, "If you have to go, you have to go".
After performing in West End and repetory theatres throughout Britain for six years, Mr. Cameron said his breakthrough role came in "The Pool of London" – a 1951 film set in postwar London involving racial prejudice, romance, and a diamond robbery. He won much critical acclaim for his role in the film.
"A girl I knew called from a film company at Ealing Studios to tell me (director) Basil Dearden was making 'Pool of London'," said Mr. Cameron. "He told me I looked too old, so I shaved off my moustache. I'd told him I was 26, but when he asked again I admitted to 32 and said it was 'poetic licence'. Actors have to tell the truth today! In one example of typecasting when I wasn't going to get a part because I was 'born in Bermuda', I quickly said I was born in Ghana but had worked in Bermuda and I got it.
"After that I was in director Lewis Gilbert's films 'Wall of Death' and then 'Emergency Call' with Sid James and Jack Warner."
By the mid-1950s Mr. Cameron was an established star in the UK and he worked steadily in movies, the theatre and in television. While his more recent TV credits include "Kavanagh QC", "Casualty", and "Waking The Dead", his significant 1960s television work included "Doctor Who", "The Prisoner" and "Danger Man".
He also starred with Sean Connery in "Thunderball" (1965) playing Pinder, the British secret service's Head of Station in the Bahamas –and technically James Bond's boss during his mission there in the film.
"Nobody wants to make a bad movie," said Mr. Cameronl. "But I've been on films where producers just want to finish it. (Bond producer) Cubby Broccoli had made lots of flops before 'Dr. No' launched James Bond, and since Connery was unknown they were expecting another flop with 'Dr No'."
Mr. Cameron has worked with screen legends like Dirk Bogarde ("Simba", 1955), John Mills ("Flame in the Street", 1961) and Richard Attenborough and Jack Hawkins ("Guns at Batasi", 1964). But Sidney Poitier – the first black actor to win a best actor Oscar (for "Lilies of the Field" in 1964) and last year's recipient of the United States' highest civilian honour, The Presidential Medal of Freedom – remains a particularly good friend.
"Sidney directed me in London in One Warm December (1973) and we still speak," said Mr. Cameron. "He used to tell me that most big stars were either drug addicts or alcoholics so he was very sensible and stopped drinking altogether. Even Sidney said I should go to Hollywood but I had a family and didn't want to. Hollywood didn't like mixed marriages and my wife, Audrey, was white and Jewish. America didn't appeal to me because of racism and also its materialism. Bermudans were like poor Americans, trying to copy everything. At the same time they were proud of their British background."
In 1979, Mr. Cameron retired from acting to run a "little business" in Guadalcanal in the south Pacific's Solomon Islands, where he lived until 1994 when he moved back to the UK and relaunched his acting career. While he preferred dedicating himself to his family and his Bahai faith rather than seeking fame and fortune in Tinseltown, the call to star in films like "The Interpreter" has been too difficult to turn down.
Had he gone to Hollywood and not "retired" to the Solomon Islands, Mr. Cameron agrees he could have been challenging the great Morgan Freeman for roles in movies like "Shawshank Redemption" (1994).
"Yes, but at that time faith was more important to me than any film," Mr. Cameron said. "I could have played Mandela, there's no doubt about that … And I'd have loved to have worked with Clint Eastwood, or when he was younger, Marlon Brando.
Delighted to see the progress of  black stars following in his wake – like the Academy Award-winning Denzel Washington and Oscar-nominee Will Smith – Mr. Cameron was asked by the newspaper what his own epitaph would be.
"After a good showbusiness career and being able to have two wonderful wives, Audrey and Barbara, I've reached the stage of my life at 93 where I still love the business that has given me such experiences that I am quite happy to say 'Cheerio, goodbye…'," he said, adding: "I'm very proud to have been a pioneer not only in films after the war but also by being the only black actor at that time having worthwhile parts in the theatre."
Mr. Cameron visited Bermuda recently and paid a courtesy call on Premier Paula Cox at the Cabinet Office. Plans were announced this summer to produce a feature-length documentary about the Bermudian actor's life and trail-blazing career.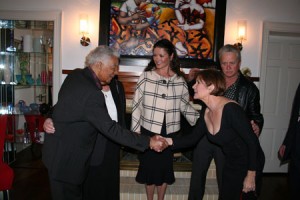 Mr. Cameron was honoured with a retrospective of his work at the tenth Bermuda International Film Festival in 2007, receiving its prestigious Prospero Award for lifetime achievement (he is pictured at left with then Bermuda residents Michael Douglas and Catherine Zeta Jones and BIFF juror actor/writer Carrie Fisher at that event).
The youngest of six children, Mr. Cameron was born on August 8, 1917 in Pembroke. His 40-year marriage to the late Audrey produced five of his six children, and he has now been married to his second wife Barbara for 16 years. The veteran actor was named as a Commander of the British Empire for services to the dramatic arts in 2009, shortly after appearing alongside Dame Helen Mirren in her Oscar-winning role in "'The Queen" (2007).
Read More About
Category: All, Entertainment, Films/Movies