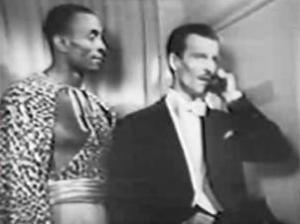 A good magician never reveals his tricks — including the geographic sleight of hand which allowed the pilot episode of a proposed TV series based on comic strip conjurer/adventurer Mandrake to be filmed largely in Bermuda despite the fact the story takes place in the US.
The 1954 "Mandrake The Magician" pilot starred professional stage magician Coe Norton as the title character and former decathlete and football star Woody Strode as his best friend and crime-fighting companion, Lothar [they are pictured together here].
Pioneering African-American actor Mr. Strode went on to a highly successful film career and was a Golden Globe nominee for his role opposite Kirk Douglas in the 1960 Stanley Kubrick epic "Spartacus."
Filmed partly at the NBC's studios in New York and partly on location in Bermuda — a short-lived movie and TV operation with ties to the US network had converted the old flying boat hangars on Darrell's Island into sound stages — the 25-minute show also featured Lisa Howard as the imperiled Princess Narda, kidnapped by ruthless foreign agents to force Mandrake to assist them. Ms Howard went on to appear in the soap operas "Edge Of Night" and "Guiding Light."
Based on the syndicated comic strip by Lee Falk — who also created "The Phantom" — the adventures of  "Mandrake The Magician"  began to appear in North American newspapers in 1934 and continue to the present day.
Mandrake uses unusually fast hypnotic techniques he has developed to battles gangsters, mad scientists, extraterrestrials and characters from other dimensions.
Magazine spread on Woody Strode and Coe Norton in Bermuda: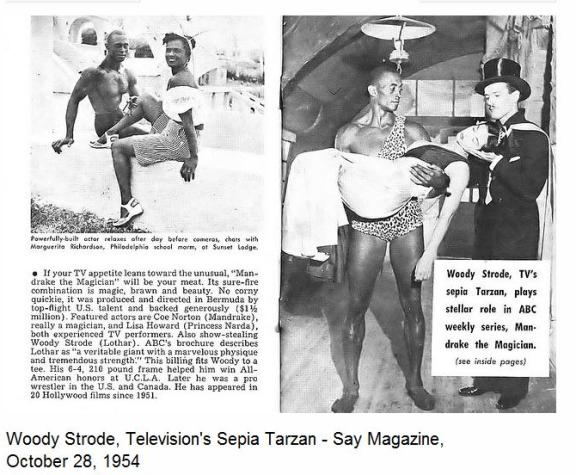 Mandrake uses unusually fast hypnotic technique he has developed to battles gangsters, mad scientists, extraterrestrials and characters from other dimensions.
"Part of this film was shot on location in Bermuda, at Marley Beach, which my parents were operating as a cottage colony in the '50s," said one Bermudian who recalls the shoot in a review of the pilot episode posted at the on-line Internet Movie Database.
"I was very young, but hung out with the leads and got their autographs, watched some of the shooting, all very exciting for a little boy! Lothar, played by Woody Strode, was so tall and impressive, but a very friendly guy.
"Coe Norton, who played Mandrake, was, of course, a highly-skilled stage magician, and I caught his act in the States in the 1980s. He cut a really sharp figure in tails as the master magician Mandrake on set! I'm not sure what happened to Narda, played by Lisa Howard – she was VERY pretty indeed!"
Bermudian William [Cheese] Ray — cast as a thug employed by the villains — can be glimpsed in some scenes and wrestles with Mr. Strode along the Marley Beach shoreline at the climax.
Mr. Ray, who later founded automobile dealership Rayclan,  recalled Mr. Strode as a gentle giant and said the American athlete-turned-actor repeatedly apologised to him for landing an unintentionally hard punch during the fight scene.
The "Mandrake" pilot did not pass muster as a proposed TV series and only one episode was ever shot. If the show had been picked up as a series by NBC, there were plans to incorporate Bermuda location footage in future episodes.
"Mandrake The Magician" TV Pilot, 1954
Read More About
Category: All, Entertainment, Films/Movies, History, Videos