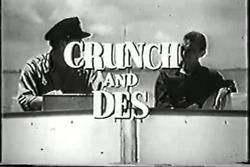 Bermuda was ready for its close-up when a short-lived TV and film production facility was built in converted flying boat hangars on Darrell's Island in the mid-1950s.
"Crunch & Des", a syndicated, half-hour TV series about the adventures of two charter fishermen, was perhaps the best known production to come out of the studio.
Originally commissioned by NBC, it ended up airing on dozens of US and Canadian TV channels as well as in the UK: the series showcased Bermuda to tremendous advantage as the island's tourism industry — badly impacted by the Second World War [1939-1945] — was beginning to surge again in the 1950s.
Based on Philip Wylie's hugely popular "Saturday Evening Post" stories, a total of 39 episodes were shot at Darrell's Island by a crew from RKO's East Coast TV production unit.
Opening credits of "Crunch and Des" shot in Bermuda's Great Sound
Some famous names were associated with "Crunch & Des": Forrest Tucker — who went on to star in CBS' "F Troop" in the 1960s — played Crunch Adams.
The weekly guest stars included all manner of A-list Hollywood veterans [Sir Cedric Hardwick] and promising up-and-comers [E.G. Marshall]. And the production designers — who built a full-scale, Key West-style fishing village set on Darrell's Island — included future Academy Award winners Gene Callahan and Richard Sylbert.
"Around June, 1955 Commanding Officer Major J.A. Marsh … delegated an unusual task to me and one other unremembered Duke of Cornwall Light Infantry rifleman, posted Derek Livermore, a veteran of the British batallion which was stationed at Prospect from 1954 through 1957. "We were to pack a Bren gun and a case of ammo and await a very fast launch at Hamilton wharf to take us to the old commercial seaplane base at Darrell's Island, then used as a film studio, where Forrest Tucker the US film star, was starring as Crunch Adams in the TV series 'Crunch & Des'.
Built in the 1930s, the Darrell's Island flying boat hangars were later converted into TV and film studios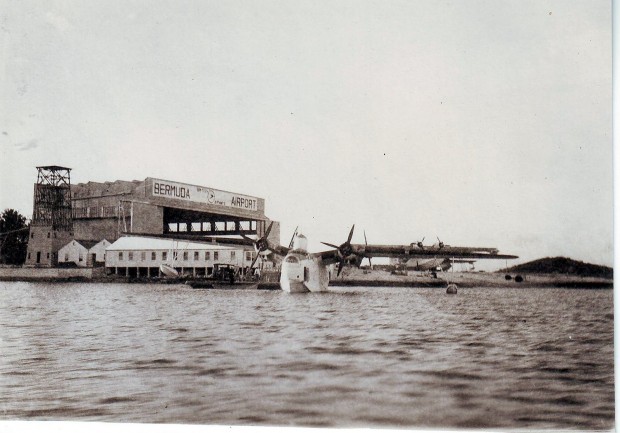 "The two days spent at the old seaplane hanger — demolished in 1974  –gave us a close encounter with the fledgling TV industry and the female bit players who craved attention from Forrest Tucker [and we DCLI blokes]! Our task was to provide background rapid fire from the bridge of a launch moored a few meters offshore. Some security risk that, when you weigh it all up, with film crews and sound booms, and starlets in close proximity — and live ammo!
"But as DCLI Light Infantry men, we accomplished the job with total satisfaction to all. Little did we realise then that we were bit players in the burgeoning TV industry."
Don and Elsbeth Gibson first came to Bermuda to work on the show — they were members of a small stock company of actors who played multiple roles in "Crunch & Des". They stayed on after production on the series wrapped and had storied careers in Bermuda's nightclub, fashion and theatrical communities throughout the 1960s and '70s.
The studio was used almost exclusively for TV productions although one feature film, the torrid 1956 romantic melodrama "Bermuda Affair", starring Kim Hunter and Gary Merrill, was partially made there.

The first project mounted at the Bermuda production facility had been a pilot and several unaired episodes of a failed series based on the comic strip character "Mandrake The Magician."
That show starred professional stage illusionist Coe Norton as the title character and athlete-turned-actor Woody Strode as his assistant Lothar.
Bermudian William [Cheese] Ray turned up in the pilot in an unbilled bit part as one of the villain's heavies.
"Part of this film was shot on location in Bermuda, at Marley Beach, which my parents were operating as a cottage colony in the '50s," one Bermudian posted about the show at the Internet Movie Database. "I was very young, but hung out with the leads and got their autographs, watched some of the shooting, all very exciting for a little boy.
"Lothar, played by Woody Strode, was so tall and impressive, but a very friendly guy. Coe Norton, who played Mandrake, was, of course, a highly-skilled stage magician, and I caught his act in the States in the 1980s. He cut a really sharp figure in tails as the master magician Mandrake on set! I'm not sure what happened to Narda, played by Lisa Howard — she was VERY pretty indeed!"
"Mandrake The Magician" pilot episode shot in Bermuda in 1954
Another 26-episode syndicated TV series called "Adventures Of The Sea Hawk" was shot there and at locations around Bermuda and aired on US TV stations in 1958. The show was later broadcast in the UK and sold to international markets.
Set aboard a hundred-foot scientific research vessel [the "Sea Hawk" of the title], the show featured John Howard who had appeared in "Lost Horizon" in 1937 and later starred in a series of Bulldog Drummond mysteries. Other series regulars were John Lee and Michael Brennan.
The scenic Bermuda footage was hugely impressive, the threadbare plots less so, and the now largely forgotten series wasn't renewed for a second season.
Renowned Bermudian band leader Hubert Smith provided incidental and background music for "Adventures of the Sea Hawk" as he had for "Crunch and Des. And a number of Bermuda actors had speaking parts in the series, including Constance [Connie] Bainbridge.
"Sea Hawk" was the last major production made at Darrell's Island and the studio was permanently shuttered shortly after work on the series wrapped.
Read More About
Category: All, Entertainment, Films/Movies, Videos