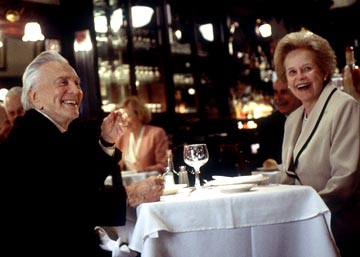 If the film bore a more than passing family resemblance to Bermuda actress Diana Douglas' real life, that's hardly surprising.
Exploring the passions, tensions and unbreakable bonds of family life, the 2003 movie "It Runs In The Family" featured three generations of the Douglas family — Michael Douglas, his legendary screen icon father Kirk_Douglas and his DJ/actor son Cameron Douglas.
And to try and offset all of the Douglas testosterone on the film, Michael Douglas suggested his Bermudian mother, Diana, play his fictional mom in the movie.
"You know, the director has the final say on casting, even when a family is involved," Michael Douglas has said. "And after Fred [Schepisi], our very talented director, had accepted three generations, with Cameron playing, then there was the part of Kirk's wife, and I said, 'Well, Fred, you gotta meet my mother, Diana'."
Although the movie was always intended to be a Douglas family affair, the role wasn't just handed to Ms Douglas; she had to audition three times.
The daughter of one-time Bermuda Attorney General Thomas Dill, Diana Douglas was courted by Kirk Douglas when they were both acting students in New York. They were married in New Orleans in 1943 and divorced seven years later.
"It Runs In The Family" went before the cameras some 50 years after their divorce but Ms Douglas said she had remained good friends with Kirk Douglas. She said she used the positive aspects of their relationship to help portray her half of a New York couple who had been married for 50 years.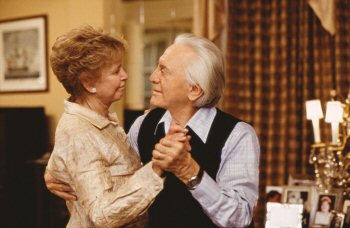 "We're both professionals. And it was useful," she said. "Particularly, the scene where we were dancing together. I think there were all sorts of things that we could call on. Actors are always looking for intense memories to call on."
Ms Douglas said the bittersweet dancing scene with her movie husband [pictured] required her to draw on the reservoirs of admiration, affection, frustration and complete exasperation which coloured their off-screen relationship.
" That's the thing an actor looks for, the sense memories that are running through it," she said. "I remember working on a picture with Luther Adler many years ago, 'House of Strangers', and this was just about the time when Kirk and I were divorcing," she has said.
"It was a rather difficult time and Jay Mankiewicz — who was the director — had told everybody I was going through a difficult time and everybody's being terribly careful and terribly tactful. It was all kind of embarrassing and Luther, it was wonderful, Luther who was playing my husband, said, 'Come on, kid. Come out for lunch. How old are you, kid?' I said, '26.' He said, '26, my God, I'm 46. I can't remember what it must feel like, what you must be going through'.
" He started carrying on like this, and he said it must be terrible. And I said, 'Well, you know, it's not the greatest time'. And he said, 'Don't you realise what you have now? It's actor's gold'. 'What do you mean?' He said, 'This pain that you're going through, you should really relish it. You should walk down lonely streets, look into lighted windows and remember what it's all like because you're going to need it when you get older and you're going to use it as an actor'. I started to laugh and I said, 'My God, that's the best advice I've heard from anybody'. It was wonderful."
Official "It Runs In The Family" trailer:
Michael Douglas — who lived in Bermuda from 2001 and 2009 with second wife Catherine Zeta Jones and their young family — has said seeing his parents work together in "It Runs In The Family" was both professionally and personally satisfying. And using real heirlooms and photos as props for the movie provided additional authenticity to this celebration and dissection of family dynamics.
" The pictures seen at the beginning of the film … they all are [real]," said Ms Douglas. "I think there's one of Kirk and me cutting the wedding cake and then there's one of our dancing together. When they asked me if they could use them, I said, 'Okay, as long as I get them back'."
Ms Douglas has said while her 1943-1951 marriage to Kirk Douglas was too tempestuous to last, she and her ex-husband — now 94 and still working and writing autobiographical books despite suffering a near-fatal 1996 stroke — managed to salvage an unlikely but enduring friendship.
"When Kirk and I were divorced, the kids were five and two and I moved to New York," she said. "We lived in an apartment for six years then and I remarried a producer on Broadway, and he had a very good relationship with my sons. Then when we moved out to California, we were friendly both with Kirk and Anne. So, it's worked out quite well.
"I've always enjoyed Kirk's sense of humor, even when I was angriest at him. He could always make me laugh, somehow, which annoyed the hell out of me. But then I think we both decided too, when the time of divorce came, that we had to maintain a certain amount of civility because of the children. I know Michael has said since being an adult that he was always very grateful that we never did badmouth each other. Sometimes we probably wanted to. And also, I think that after he got married to [second wife] Anne, who made it very much easier, because she and I cooperated very much in terms of bed times and what they could watch on television, and that kind of thing."
Diana Douglas hasn't just explored family matters on screen – she has also written a candid memoir of her life.
"This happened in 1994, you'll remember the big earthquake happened [in Los Angeles[ and my house was badly damaged. So Michael asked me to move in with him," Ms Douglas has said. "And we spent a lot of time talking, reminiscing, laughing. And he said, 'You've got to write this …'."
So she spent two years working on herr memoir. She described her memories of being the daughter of the Attorney General of Bermuda, growing up on the island and later moving to New York in the late '30s to study at the American Academy of Dramatic Arts.
But before she could finish her book, she was diagnosed with breast cancer.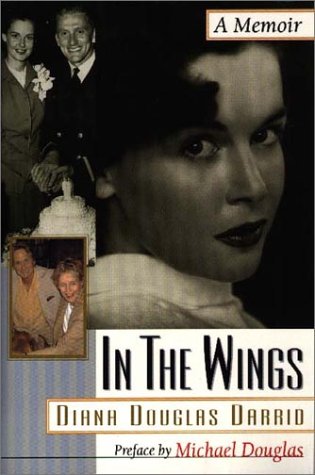 "I decided to revise the book so it wasn't just a sweet grandmotherly book, but it was painfully honest at times," said Ms Douglas. "And then when I finished it, somebody wanted to publish it,"
She said she was initially afraid to let the world know some family secrets — including her affair with swashbuckling movie star Errol Flynn.
"I read that and said, 'Mom, Errol Flynn'?" laughed Michael Douglas.
But after she was encouraged by her two sons to publish the book, "In the Wings: A Memoir" made it to North American bookstores.
The book — published under her married name Diana Douglas Darrid rather than her professional name –sold well and received enthusiastic reviews. "Publisher's Weekly" said: "Born Diana Dill to a privileged family in Bermuda in 1923, Darrid, the mother of actor Michael Douglas and former wife of Kirk, writes that she acquired an 'English schooling reticence' during her teens.
"Indeed, an admirable reserve and dignity characterise this memoir. Working as a Powers Agency model, she graced the cover of 'Life' in the early 1940s. She met Kirk Douglas in New York City, and although their subsequent marriage resulted in two children, Michael and Joel, it ended quickly. They separated in the early '50s as he rose to fame on the strength of 'Champion' (1949), while she played a supporting role in Joseph Mankiewicz's 'House of Strangers' (1949).
"She later married the actor-producer-novelist Bill Darrid; they remained together for 37 years until his death in 1992. Her own career was prolific if not stellar, including a dozen movies, live television, Broadway (Edward Albee's 'Everything in the Garden') and several stints as a regular on 'Days of Our Lives'. Darrid tells anecdotes well
"… As one might expect, a host of celebrities make cameos, but Darrid does not linger on them. Even her friend, the 'charming and funny' Brenda Vaccaro, and her son, Michael, appear on only a few pages. While readers may regret having their curiosity aroused and not sated, Darrid should be praised for keeping her priorities straight and her focus on her own story," concluded "The Publisher's Weekly" notice.
During a 1999 tour to promote the book, Ms Douglas met widower Donald Webster, a former high-ranking official in the US Treasury Department under President Nixon. They were married at Old Devonshire Church in Bermuda in 2002. The ceremony was followed by a reception at Ariel Sands Resort, the now-shuttered South Shore cottage colony owned by the bride's Dill family.
"It Runs In The Family" went into production shortly after her wedding. Ms Douglas announced her retirement from acting in 2008.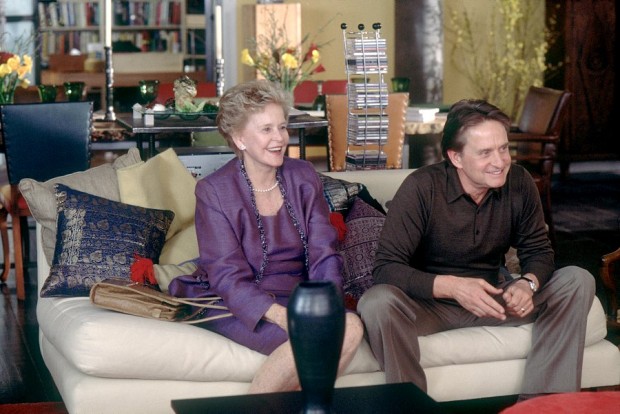 Read More About
Category: All, Entertainment, Films/Movies