Coldwell Banker Bermuda Realty has adopted a Private Cloud solution from CCS Group and QuoVadis Services as the backbone of its computing needs.
"Bermuda Realty has a long tradition of developing innovative services for the local real estate sector," said company president Brian Madeiros. "This has lead to a considerable investment in IT infrastructure. By moving to cloud hosting, we have made the conscious decision to focus our resources on the real estate services at the heart of our business, and to outsource the underlying technology platforms to IT specialists like CCS and QuoVadis."
CCS and QuoVadis are providing both production and disaster recovery hosting for Bermuda Realty's server environments, as well as virtual desktops for all employees. The Private Cloud solution is based on QuoVadis' multimillion dollar Infrastructure on Demand platform, hosted in its SecureCentre datacentre in Hamilton.
From left Gavin Dent of QuoVadis, Ian Cook of CCS, Brian Madeiros of Bermuda Realty: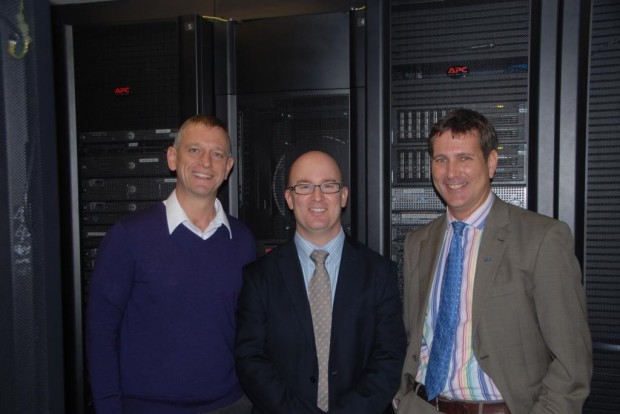 "Bermuda Realty were looking for a highly available, high performance solution for their servers as well as the ability for employees to securely access their work from anywhere at any time," stated Kory Logan, Product Development Manager of CCS. "Based on these requirements, we felt that hosted services with virtual desktops powered by the QuoVadis platform would be the most effective and economical solution for Bermuda Realty."
With cloud hosting, companies outsource their server computing requirements to a hosting provider, reducing their own costs of buying in-house hardware or maintaining a datacentre. Virtual desktops expand on that idea, so a user's software and files are not tied to an individual desktop computer. Rather, they operate from a central cloud server, so that users can access their office work environment from any computer when securely connected to the cloud.
"The QuoVadis cloud allows companies to reduce their business risk and overall cost of IT by leveraging our high performance computing platforms and datacentre technologies," said Gavin Dent, CEO of QuoVadis Services. "It's an appealing formula for many businesses faced with steep upgrade costs, replacing their variable IT capital expenditures with predictable monthly fees."
QuoVadis launched the high availability SecureCentre hosting facility in central Hamilton in late 2010 with multiple layers of support infrastructure and direct connections to Bermuda's various data networks.
"In this economic environment, many local companies are paying particular attention to their in-house costs of supporting and operating IT infrastructure. At the same time, they have concerns about hosting their IT overseas for jurisdiction or support reasons," said Ian Cook, General Manager of CCS.
"Working with the QuoVadis Infrastructure on Demand platform, CCS can create solutions that leverage the power of cloud computing but are customised to local company requirements and are backed up by experienced Bermuda support teams."
Related Posts