[Updated with video] The Fire Service, Police Service and an ambulance were all seen responding to the Swing Bridge, St George's area, and Bernews understands that a body has been discovered in the water.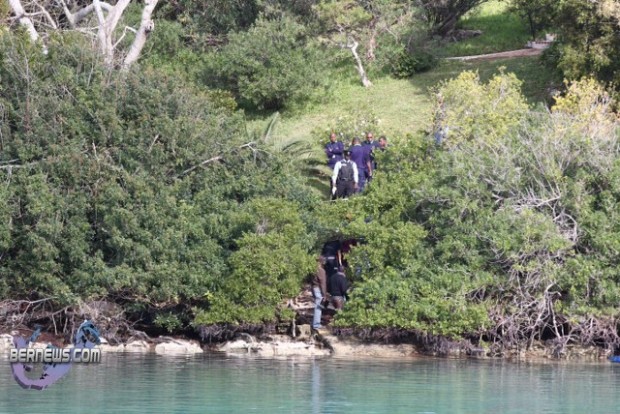 At approximately 11.30am the ambulance left, however it left at a slow speed without the siren on.
As of 11.50am the Police continue to stay on scene, the Forensics Unit has arrived, and what appears to be crime scene tape can be seen flapping through the foliage the police are in.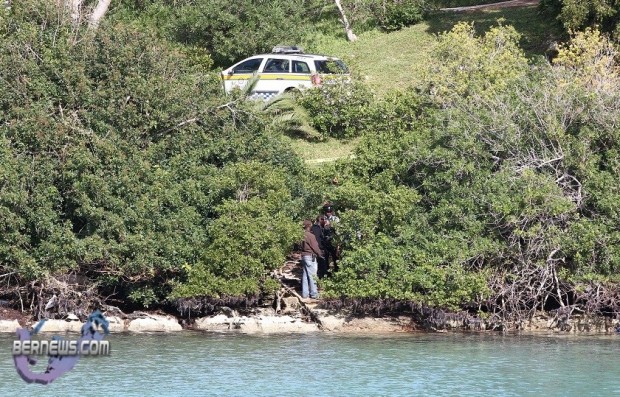 Details are limited at this early juncture, however we will update as able.
Update 12.20pm: The Fire Department has left, and the Marine Police have arrived in the area. We have been made to understand the deceased individual is an older male.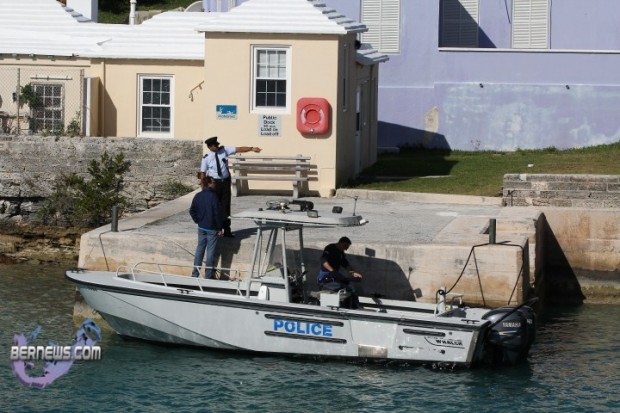 Update 12.32pm: What appears to be the coroner and a police forensic photographer got on the police boat, and appear to be making their way across the water to the scene.
Update 12.58pm: A police diver is on scene, and has just entered the water. A number of police officers, dressed in forensic suits, are also on the boat. The body has been moved onto dry land.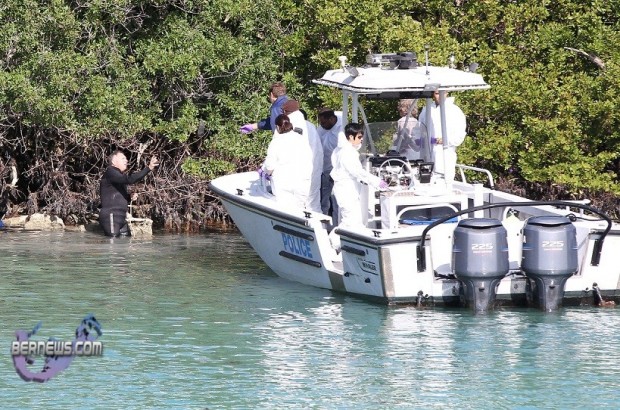 Update 1.36pm: Police are preparing to hold a short press conference at the scene, so we expect to have official information shortly.
Update 1.46pm: A police spokesperson said, "Around 11am on Saturday, January 7th police responded to a report of a body found floating in the waters near the Swing Bridge in St. George's.
"The lifeless body of a man was subsequently located and officers including members of the Marine Unit attended, conducting inquiries at the scene.
"The investigation into this incident is ongoing and no further information will be released until the next of kin have been notified.
Update 1.50pm: The video of a statement from Police Spokesperson Robin Simmons is below. When asked if there is any evidence of foul play, Mr Simmons said: "It is in the initial stages of the investigation at this time."
"It does, there may not be, suspicious circumstances, however the death is being fully investigated and a cause of death will be determined once the investigation is complete." Mr Simmons also said the gentleman had been reported missing.
,

Update 2.30pm: The scene now appears to be clear, with the large police presence gone. Audio above changed to video.
Read More About