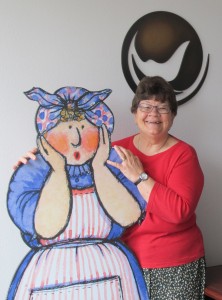 Although one of her most famous literary characters may be called Mrs. Wishy Washy, her seminars are anything but.
The Bermuda Reading Association will be hosting a visit by acclaimed children's author and literacy advocate Joy Cowley next month [the writer is pictured with Mrs. Wishy Washy here].
She will be conducting a two-session symposium at the Fairmont Southampton on Thursday, February 9 on "The Joy Of The Story."
The author will be discussing the elements that make for an effective early reading book in a presentation coveringchild-centered content, language levels, story basics, editing, illustration, and layout.
The symposium is intented to help Bermuda teachers evaluate books and to write effective materials for their students.
Ms Cowley will be holding her sessions at the hotel from 9-12:00am and from 4-7 pm
Tickets are $25.00 and can be purchased by calling the Bermuda Reading Association at 535-8035 or by emailing info@bermudareading.org
Teachers attending the seminar qualify for Professional Development Hours.
The author of novels and short stories, New Zealander Ms Cowley is known primarily for her children's fiction.
For many years Ms Cowley has been actively involved in teaching early reading skills and helping those with reading difficulties, in which capacity she has written approximately 500 books.
In 1992 she was awarded an OBE for services to children's literature and in 2005 she was named a Distinguished Companion of the New Zealand Order of Merit in that country's honour system.
Established in 1977, the Bermuda Reading Association is an affiliate of the International Reading Association.
Its mandate is to promote a love of reading, encourage professional development and support the improvement of literacy standards in Bermuda.
Read More About
Category: All