[Updated with videos] 36-year-old Derek Spalding was found guilty of the 2007 murder of Shaki Crockwell this afternoon [Feb.10].
Shaki Crockwell — a national level football player and captain of the Boulevard Blazers — was found dead on 24th August 2007. The 25-year-old's body was found on the Railway Trail in Devonshire.
The trial began on January 24th, with the jury hearing that Mr Spalding shot the victim as he owed him money from selling drugs.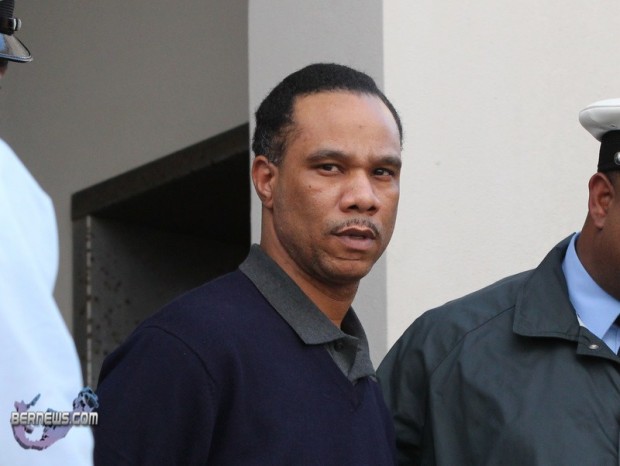 Mr Crockwell and Mr Spalding initially met while they were both serving prison time. Mr Spalding was released from prison in 2007, after serving 11 years for armed robbery.
The Court heard the two men had decided on an arrangement in which the victim would sell drugs for the defendant upon his release from prison, as he was scheduled to be released first.
The Prosecutor said the defendant was owed money by Mr Crockwell, and arranged to meet the victim on the Railway Tracks saying he would give him a package of drugs. The two men met on the Tracks, and Mr Spalding shot Mr Crockwell – who was wearing a bullet proof vest when he was found.
A female witness testified during the trial that the victim had taken to wearing a bullet proof vest a few weeks before he was killed, and during that same time also seemed nervous and constantly watching who was around him.
Also testifying during the trial was Randy Lightbourne, who said he met both the victim and the defendant while all three were in prison. He said Mr Crockwell was selling drugs for Mr Spalding, and that the victim owed Mr Spalding money.
Mr Lightbourne testified that Mr Spalding confessed to him, however he did not reveal the information until some time later when he was shot, thought he would die and should do the right thing.
Mr Lightbourne was shot multiple times outside a West End bar on July 23, 2010, with Marico Bassett later convicted of the crime and sentenced to 25 years in prison. Mr Spalding denied Mr Lightbourne's claims, saying he was an "evil" man.
Mr Spalding's father also testified that his son confessed to murdering Mr Crockwell, which his son refuted saying his father had not been closely involved in his life. Prisoner Kirk Mundy – who was arrested for the Rebecca Middleton murder – also took the stand during the trial. Mr Spalding was remanded in custody, and will be sentenced at a later date.
Speaking after the verdict, Shaki Crockwell's father said, "Justice has been served. My son can rest in peace."
Read More About
Category: All, Court Reports, Crime, News