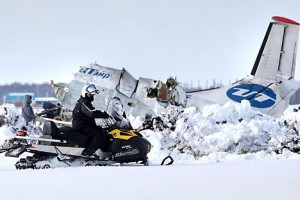 [Updated] At least 31 people died in a plane crash in Siberia early on today [Apr.2], Russian officials said, when a Bermuda-registered jet with 43 people aboard went down shortly after takeoff from Tyumen, a regional hub about 1,000 miles from Moscow.
The plane, a French-built ATR-72 with 43 people on board, had been scheduled to fly to the Siberian oil town of Surgut, but crashed At least 12 people survived the impact which split the plane into three pieces. All are in critical condition, officials told the New York Times.
There was no immediate word on the cause of the crash. Tyumen's governor, Vladimir Yakushev, said that the flight crew had not reported any malfunctions before the crash, according to the Interfax News agency.
But officials of UTair, company that operated the flight, said that the pilots had attempted to make an emergency landing. A police spokesman said residents of neighboring villages reported seeing smoke coming from the plane's engines shortly after takeoff, the Ria Novosti news agency said. The plane had reached an altitude of about 300 feet before falling.
Bermuda's lucrative $20 million-a-year Aircraft Registry operates like the Registration of Shipping or Maritime Registry. The Maritime Registry means that a ship claims that its home port is Bermuda, and is supposed to follow and meet Bermuda maritime or marine regulations.
Hundreds of Russian aircraft are registered in Bermuda, including many from the country's flagship Aeroflot fleet. And earlier this year Transport Minister Derrick Burgess said Russian airline S7 had just registered a new Airbus A320 in Bermuda — and that five more were in the pipeline.
Update 1.35pm: The Government issued a statement, which follows in full below:
A spokesman for the Ministry of Transport, Department of Civil Aviation this morning advised of a plane crash in Russia involving a Bermuda registered plane on Sunday, April 1, 2102.

Shortly before midnight last night the Department received information that the Emergency Locator Transmitter (ELT) from VP-BYZ had been activated. In a follow up with the operator of the aircraft it was confirmed that it had been involved in an accident.

The UK Air Accident Investigation Branch, responsible for investigating accidents on behalf of Bermuda, is now assisting the Russian Interstate Aviation Committee on the investigation into the cause(s) of the accident.

The Government of Bermuda offers its condolences to the families of the lost and injured passengers and crew members of UTair flight UT120.

Details of the plane are:

Registration:- VP-BYZ
Aircraft type:- ATR-72 – 201
Operator:- UTair Aviation
Souls on Board:- 39 passengers & 4 crew
Location:- approx 3km from the Roschino Airport in Tyumen, Russia
Read More About