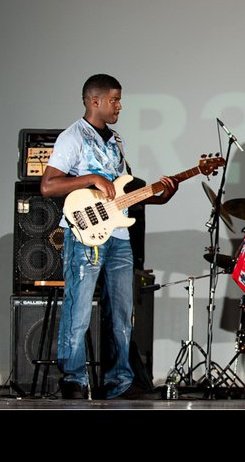 Bermudian audio engineer, producer and performer Derek Simmons — also known as Derek G. — has released a new electronic composition online which will be included in an upcoming instrumental mixtape titled "Moment of Kweeb."
Titled "Kweebland", it's the latest release from the hard-driving 22-year-old bassist for the backing band DIA.
DIA has taken Bermuda by storm as the hottest, freshest backing band playing all-original music from a variety of genres including hip hop, reggae, soul and their newly developed Bermudian genre, gombass.
Their imaginative original music has been exceptionally well-received locally and internationally.
Although DIA only formed in 2010, they have already opened for Toni Braxton at the Bermuda Music Festival with Chewstick and have gone on tour with Chewstick to New York City and Toronto.
DIA is comprised of Bermudian drum legend, Scarlet Thomas; guitarist-extraordinaire Kofi; boy wonder, electronic maestro and percussionist Aden Peets; and music director Mr. Simmons on bass and production.
They have backed the best of Bermuda's artists including Joy T. Barnum, Riddla, Kombat, Uzi Mon, Ramon Clarke and others.
They have hosted their own freestyle nights and you can catch them backing local talent at Chewstick's open mic jam sessions every Sunday at the cultural organisation's Neo–Griot Lounge on the corner of Court and Elliot Streets.
Chewstick, founded in 2002, is dedicated to breaking down social barriers, providing opportunities for storytellers of every medium and is committed to being a part of the solution.
Read More About
Category: All, Entertainment, Music