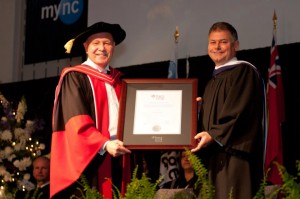 On Friday June 22nd the Minister of Health Zane DeSilva attended the Niagara College Convocation in Ontario, Canada where he delivered the convocation address.
During the ceremony Minister DeSilva was awarded an Honorary Degree in International Commerce and Global Development in recognition of his "strong leadership and many accomplishments."
Graduating students were from several programs in the Schools of Business, Hospitality and Tourism Studies.
During his speech the Minister urged students to pursue their interests and to never stop learning – sentiments which he said were inspired from hearing the words of fellow Bermudians speaking at similar events to graduates entering the workforce for the first time.
He said: "Your role is not merely to find a place in today's world. Your role is to 'remake' this world, 'strengthen' this world, and to leave a much better inheritance to the generation that follows.
"If you end up in a place that you do not want to be, relax! Pursue new interests, continue experimenting, explore further, and learn some more. If you do find a job that you like you will never feel like you are working."
Throughout his speech, at which his wife Joanne, daughter Zarah and son Zane Jr. were present, he stressed the importance of recognizing and appreciating family support.
He said: "My family has been my cornerstone throughout my business career and have given me overwhelming support as I have pursued my political career.
"As tall as you feel today, do not forget the foundation and support provided by your family. Be proud of what you have achieved but remember that today is their day too."
Among his advice to students for the future were suggestions to: admit when you are wrong; seek advice when you feel uncertain; and to dwell on success rather than failure.
The Minister said upon his return that he was "deeply grateful and very humbled" at being awarded the honorary degree and on being invited to make the convocation address.
- Photo courtesy of NiagraCollegeNews.ca
Read More About
Category: All