The PLP has hit back at Shadow Finance Minister Bob Richards and the OBA after a recent study done in the Cayman Islands indicated that their term limit policy is not one of the top four factors limiting business growth.
The recently completed report by the Cayman Term Limit Review Committee about the seven-year term limits said the cost of doing business was rated as the top limiting factor among the 97 responses from local businesses received in the committee's survey conducted in late 2011.
A chart extracted from the Cayman report is below: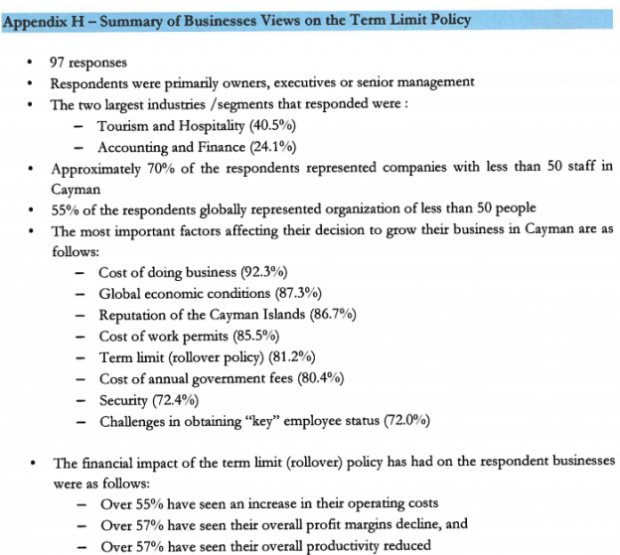 The report indicated the most important factors which affected the 97 businesses decision to operate in the Cayman included the cost of doing business [92.3%], global economic conditions [87.3%], reputation of the Cayman Islands [86.7%%], cost of work permits [85.5%], term limits [81.2%], cost of Government fees [80.4%], security [72.4%] and challenges in obtaining "key" employee status [72%].
The Cayman media reports that, "The Term Limit Review Committee's overall report did not recommend abolishing the term limit, often referred to as the "rollover policy", altogether.
"The government-appointed group instead recommended that the term be extended from the current seven 
years to 10 years. None of the recommendations contained in the document have yet been accepted by Cabinet."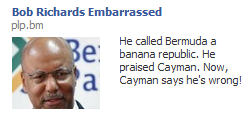 The PLP took note of the report saying, "The Cayman Islands came out with a comprehensive study that said that the OBA's only idea for the Bermuda economy was not one of the four reasons for their islands' recent loss of business."
"The OBA's only idea for the Bermuda economy is to implement something that a Cayman study rejected. The OBA offer a lot of attacks and bluster, but only offers unworkable and unrealistic and recycled UBP plans.
"The report also laid to waste the OBA's ridiculous argument that the Bermuda government and not the global recession is primarily responsible for the loss of business in Bermuda. "The Cayman Islands have rejected Bob Richards' bad idea of ending Term Limits; and soon the Bermudian voter will also have their chance to reject the OBA plan for Bermudians," the PLP said.
Yesterday an ad relating to the matter appeared on the social network Facebook. While not officially confirmed who posted the ad [pictured above left], it linked to the PLP's blog post on the matter, and had a photo of Mr Richards saying "He called Bermuda a banana republic. He praised Cayman. Now, Cayman says he is wrong."
The full 105-page Cayman report is below [PDF here], click 'Fullscreen' for greater clarity:
Related Posts