[Written by John Rousmaniere] The International Jury for the 2012 Newport Bermuda Race has penalised the yacht Carina 15 minutes in elapsed time because a professional sailor briefly steered the boat during the race. The rules of the St. David's Lighthouse Division in which Carina sailed (and which the boat won) require that only amateur sailors steer while racing.
The ruling does not affect the race standings. The penalty trims Carina's margin over the second-place St. David's Lighthouse boat, the U.S. Naval Academy's Defiance, to 16 minutes, 22 seconds from 34 minutes, 34 seconds. Carina also remains winner of Class 3 under the IRC rule.
The International Jury made its decision after a hearing on Sunday, July 8, in which Carina's owner and captain, Rives Potts participated. The Jury determined that Carina's crew list, as provided by Potts before the race, listed all of the boat's 12 crewmembers as Category 1 amateur sailors under the ISAF sailor classification code.
Carina is pictured below, photo by Barry Pickthall/PPL: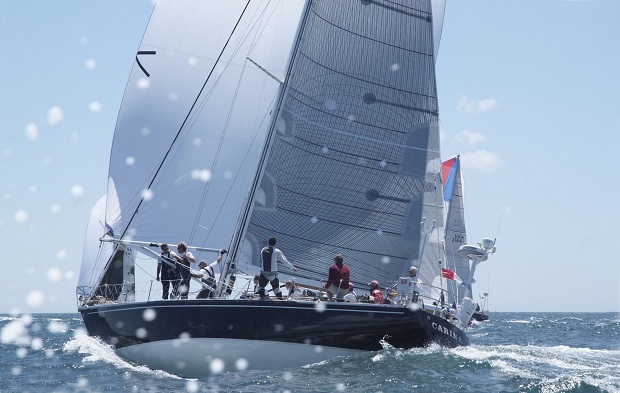 The rules for the St. David's Lighthouse Division permit a boat the size of Carina, a 48ft sloop, to have as many as three professional sailors in the crew with the condition that none of them steer while the boat is racing.
One of Carina's crew was Kit Will, whose ISAF Category 1 classification had expired in April 2010. Two days before the race start, Will applied to ISAF and was classified as a Category 3 professional sailor. (There is no Category 2 in the ISAF code.) Will did not inform Potts that he had been reclassified as a Category 3 until after Carina finished the race in Bermuda.
By then Carina had been presented with the Corinthian Trophy for top boat with an all-amateur crew. Potts returned the trophy to the Bermuda Race Organising Committee, which runs the race for the Cruising Club of America and the Royal Bermuda Yacht Club.
Potts filed a report with the International Jury in which he stated that Will had briefly steered Carina during the race. Potts requested that the Jury review the matter. "Mr Will was aware that Category 3 competitors were not permitted to steer the yacht while racing," the Jury stated in its decision. "During the race Mr Will steered the boat on two occasions for brief periods amounting to several minutes." The Jury imposed the 15-minute penalty.
While the Bermuda Race has no official overall winner, the top boat in the St. David's Lighthouse Division is generally regarded as the winner because this is the largest division and features amateur sailors.
The members of the International Jury are Peter Shrubb (Bermuda) Chairman, Lynne Beal (Canada), Robert Duffy (Bermuda), Patricia O`Donnell (U.S.), and Arthur Wullschleger (U.S.)
Read More About