RBTCC Chairman Clement Talbot announced the distribution of the 2012 RBT Educational Awards for the final time, with Jeelise Allen, Lauren Furbert, Jasmine Looby, Shuntelle Paynter, Allison Outerbridge, and Priscilla Thompson-Tavares all receiving awards. The second year awardees were Michiko Campbell, Khamani Fox and Kendra Simons.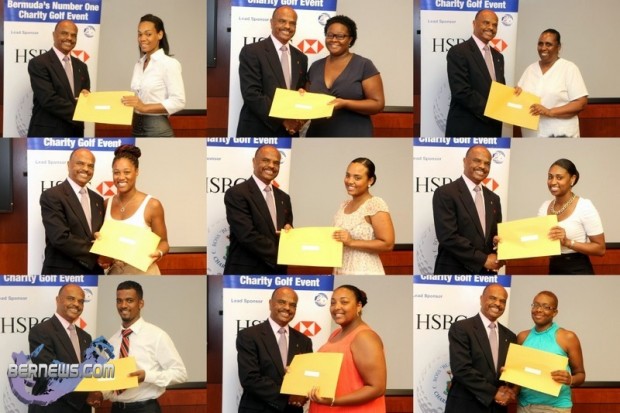 Mr. Talbot said, "Once again we had so many applicants for this our final year and as I always say I only wish we had the funds to assist each and every one of the students who applied for an RBT Education Award.
"This year we will be providing Scholarships totaling $68,000 to 9 very deserving university students, 6 of which are new students and second awards to 3 students from last year as part of their continuing awards."
He continued, "As a result of the magnificent corporate sponsorship and community support, we have been able to provide $538,000 in Education Awards over the past 6 years. This has enabled the Ross "Blackie" Talbot Charity Classic to assist 41 Bermudian students to pursue their academic endeavours overseas."
Jeanne Atherden, RBT Education Awards Committee Chairperson, said, "I personally and on behalf of the RBT committee, wish to thank the members of the Screening and Selection Committees for giving freely of their time resulting in the selection of these most worthy students."
Richard Moseley, HSBC Bermuda CEO stated, "The generosity of the Ross "Blackie" Talbot Education Awards is outstanding, with more than half a million dollars gifted to 41 Bermudian students over 6 years. This commitment of time and resources, raising funds in support of education, is an example of the RBT Board's exceptional passion for Bermuda and her people.
"HSBC Bermuda is pleased to have been a lead supporter for the RBT event since its inception, the proceeds of which have not only benefited local charities, but also young Bermudians, providing them with opportunities to develop academically."
Mr. Talbot closed by saying, "I would like to close by extending our heartiest congratulations to each and every one of you for your pursuit of a higher education which will enable you to assume positions of responsibility in our community."
Click to enlarge photos:
Related Posts