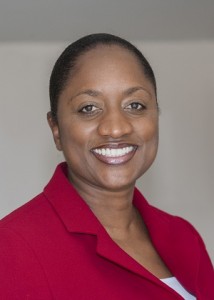 The Bermuda Insurance Institute [BII] today announced the  appointment of Dawnnelle Walker as its first ever Chief Executive Officer. Ms. Walker is a Bermudian and is currently Senior Manager (Vice President) for Learning & Development at HSBC Bank of Bermuda Ltd.
Ms. Walker is currently completing her doctorate on Work-based Learning and Leadership. This degree is the product of a joint venture between the University of Pennsylvania's Wharton School of Business and the Graduate School of Education. Ms. Walker will assume her role at the BII in November, 2012. In her role as CEO, Ms. Walker will report to the Governing Council of the BII.
Commenting on the appointment of Ms. Walker, the BII's Governing Council President Chris Fisher said: "We are extremely excited to appoint someone of Dawnnelle Walker's caliber as the BII's first ever CEO.
"With more than18 years of experience as an education professional in both the public and private sector, Dawnnelle is well equipped for her new leadership role. When the Council took the decision earlier this year to reorganize the BII's day to day management structure we did this with the goal of appointing a leader with the energy and expertise to drive the continued evolution of the BII as it seeks to address the changing educational and development needs of our member companies."
It is anticipated that the BII Governing Council positions of President and Vice President will be changed to Chairman and Vice Chairman at the BII's next Annual General Meeting to accommodate the change in the day to day leadership role to one of CEO.
Mr. Fisher added: "The BII's recently announced partnership with the University of Pennsylvania's Wharton School of Business to offer a world-class leadership course in Bermuda in Spring 2013 is an excellent example of the type of new offering that the BII will be seeking to make available to the Bermuda (re)insurance and associated industry workforce going forward.
"The BII Governing Council is firmly committed to building upon the BII's superb record of training and development in the Bermuda (re)insurance market over the past 40 years and we see Dawnnelle's appointment as another critical step in our efforts to remain relevant in the dynamic (re)insurance market."
Dawnnelle Walker commented: "I am extremely pleased to have been selected to lead the BII's day to day operations and to work with the BII Governing Council to take the BII to a new level of excellence. I am pleased that the Governing Council of the BII has put its trust in me to put into action our shared vision for the BII.
"My first task upon assuming my role with the BII in November will be to reach out to our membership base. This will give me the opportunity to gain more of their insight on how we can best serve them and enhance the BII's reputation as a world class provider of insurance and reinsurance education. I think these are very exciting times for the BII."
Read More About