[Updated with statements from the PLP, OBA, Premier, Governor and National Security Minister] A car fire —  thought to have possibly been deliberate in nature – occurred this morning [Sept 17] in the Friswells Hill area, with the vehicle belonging to PLP MP Ashfield DeVent, who resides in the area.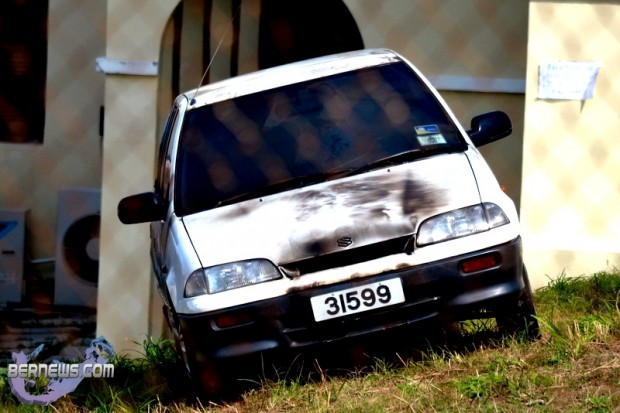 Mr DeVent will not represent the area in the upcoming election, with the branch having selected Rolfe Commissiong as the PLP candidate for the Constituency #21 Pembroke South East seat, however he has been considering running as an Independent.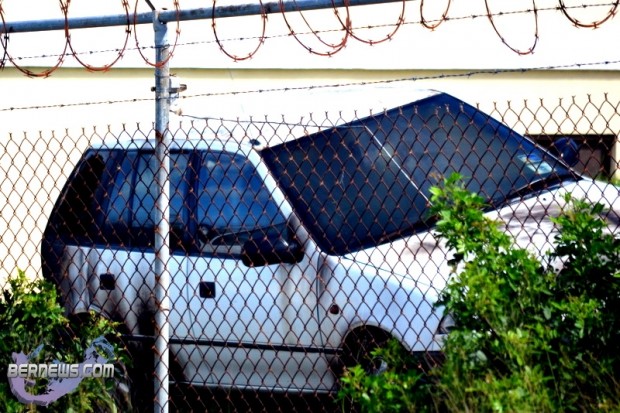 The police are understood to be investigating the incident, and are expected to release a statement later today.
Update 11:23am: The Progressive Labour Party released a statement condemning the incident today. "The Progressive Labour Party condemns in the highest regard any attack on any individuals or their properties. This type of behavior has no place in Bermuda.
"We call on the authorities to investigate to the fullest extent. The Hon. Ashfield Devent has served our country well and in no way deserves to be treated in this manner.
"We call on the members of public to refrain from these types of destructive acts, especially in this
heightened political environment.
"Progressive Labour Party Candidate for Pembroke South East, Rolfe Commissiong, states, "Firstly, I wish to personally deplore the apparent firebombing of the car of M.P. Devent.
"No person in our community should be subjected to the wanton destruction of personal property in the manner that Mr. Devent has.
"I also hope that the person and/or persons who have committed such acts are swiftly apprehended by the police. I would encourage members of the community who may have any information related to this incident to contact the relevant authorities."
Update 11:37am: The Bermuda Fire Service have confirmed they received a call at 6:13am and responded to the scene where they found the fire was out.
Divisional Officer Dana Lovell said, "A fire investigator was called in at approximately 6:24am and the Fire Service is treating the incident as suspicious. The vehicle is beyond economical repair and the investigation is ongoing."
Update 11.59am: A police spokesperson said: "Around 6:20am on Monday, September 17th police and Bermuda Fire & Rescue Service personnel attended a reported vehicle fire on Friswells Road in Devonshire.
"A white Suzuki car was damaged as a result; however the fire was apparently extinguished prior to the arrival of the emergency services. There were no reported injuries. Inquiries into this incident are underway and anyone with any information is encouraged to contact Detective Constable Chris Sabean on 295-0011."
Update 12.42pm: OBA public safety spokesman Jeff Baron said: "This is a shocking and perplexing incident. My leader Craig Cannonier contacted Mr. DeVent early this morning after the news was reported and we take comfort from the fact that no one was hurt.
"But that this incident happened at all – the firebombing of an MP's automobile outside his home – is very disturbing. Nothing can be gained from such an act.
"We urge anyone with information about it to work with the Police and CrimeStoppers. In the meantime, we extend our total support to Mr. DeVent and his family."
Update 4.39pm: Premier Paula Cox said: "The matter is subject to police investigation and that is underway. Clearly however any attack or personal threat against an individual is reprehensible and has no place in Bermuda.
"We are a community that adheres to the rule of law and where we uphold as a country, law and good order.
"I have reached out to the Hon Ashfield DeVent to check on how he is personally. He occupies a very key role as the Chairman of the Parole Board and has always been a fearless advocate and has passionately spoken out about what he sees as the ills of the community."
Update 5.08pm: The Governor George Fergusson, issued a statement today following this morning's attack on Ashfield DeVent's car.
"I am shocked that an attack like this should be made, especially on someone involved directly in the service of his community and the whole of Bermuda, as an MP and as Chair of the Parole Board. I know that the police are making every effort to find the perpetrator and I ask that anyone who knows anything about this incident should pass it on to the police."
Update 5.15pm: "An appalling attempt at intimidation that will be investigated and strongly prosecuted…." said Minister of National Security Wayne Perinchief reacting to the deliberate fire set to MP Ashfield Devent's car earlier this morning.
"I met with Mr. Devent this morning and he has shared with me his account of this appalling event. He is a true public servant and is undeterred from doing his duty. In fact, he has already given a statement to the police and his example of assisting the police is something we emphasize regularly."
Minister Perinchief is to meet with Governor Fergusson and the Police Senior Command this afternoon. " I have already received a preliminary briefing from the Commissioner and he has assured me that this matter will be investigated with a view to bringing those responsible to justice."
Read More About
Category: Accidents and fires, All, Crime, News