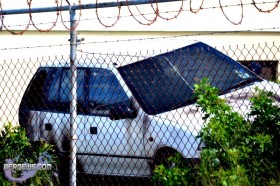 The deliberate fire set to PLP MP Ashfield Devent's car yesterday [Sept 17] was "an appalling attempt at intimidation that will be investigated and strongly prosecuted," Minister of National Security Wayne Perinchief said.
The incident was widely condemned by a number of people including the Governor, Premier, both major political parties, as well as both candidates for Constituency #21 Pembroke South East – the seat Mr DeVent presently holds.
The PLP said: "We call on the members of public to refrain from these types of destructive acts, especially in this heightened political environment," while the PLP candidate for Pembroke South East, Rolfe Commissiong, said, "I wish to personally deplore the apparent firebombing of the car of M.P. Devent."
The OBA candidate for the area, Jeff Baron, said: "But that this incident happened at all – the firebombing of an MP's automobile outside his home – is very disturbing. Nothing can be gained from such an act."
Premier Paula Cox said: "Clearly however any attack or personal threat against an individual is reprehensible and has no place in Bermuda," while the Governor said: "I am shocked that an attack like this should be made, especially on someone involved directly in the service of his community and the whole of Bermuda, as an MP and as Chair of the Parole Board."
When asked what he think may have provoked the incident Mr Devent told ZBM: "Could be any one of a number of reasons. Could have something to due with the fact I am Chairman of the Parole Board. Could be politically motivated which I hate to think is the case, we are living in a new Bermuda…different times. And of course it could just be some nut job."
The police are investigating the incident, and anyone with any information is encouraged to contact Detective Constable Chris Sabean on 295-0011.
Related Posts