PlayList Management, LLC and IVibes Productions are hosting an album release party for Bermudian artists Victims of Existence – Khari "Otis" Thornhill and John Eric Amaral, on Tuesday, September 18, 2012 at Flanagan's Outback Sports Bar.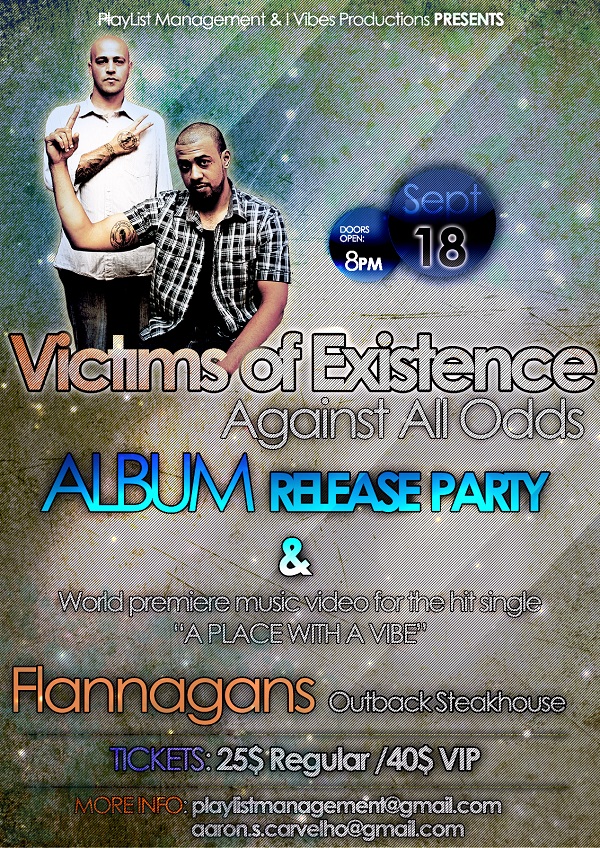 Victims of Existence, who have recently signed a Digital Distribution contract with SunToucher Entertainment LLC, in collaboration with Sony Music Networks, are very excited about the release. A spokesperson said, "This album has music for everybody – the true Hip Hop fans will definitely vibe, as well as those R&B lovers. The album is on point."
In addition to the album release, they are also presenting their new music video for their hit "A Place With A Vibe" featuring iLL-Logical Linguistics [Josh "Fatz" Simons]. The video was shot on location in Bermuda last month and features several locations including Dockyard and Front Street.
CEO of PlayList Management, LLC Theresa Minors stated, "We are extremely excited about the release. "A Place With A Vibe" has been at the top of the charts on HOTT 1075 and Tha Underground Radio stations and is featured on the album, Against All Odds. They are already receiving international recognition based on this track alone. What the album has in store is going to go beyond expectation!"
Tickets are available by emailing – tix@playlistmanagement.net or aaron.s.carvelho@gmail.com. For additional information regarding Victims of Existence and how you can support their efforts, please email playlistmanagement@gmail.com.
Related Posts
Category: All, Entertainment, Music