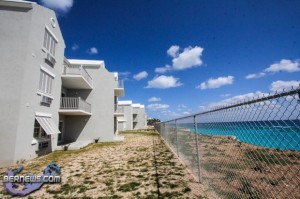 The Public Works Ministry has confirmed that as of this time, one Grand Atlantic Condo has sold.
The Grand Atlantic Development is located in Warwick, and comprises of 60 two bedroom/one bathroom homes and 18 three bedroom/two bathroom homes. Prices range from $495,000 for a 2 bedroom home, up to $665,000 for an ocean view 3 bedroom unit.
Six months ago Public Works Minister Michael Weeks announced that 100% financing for the units will be offered to qualified first-time home purchasers.
With 100% financing, a 25 year mortgage [at 6.5%] for the 2 bedroom is approximately $3,340 per month, while a 25 year mortgage for the 3 bedroom unit is approximately $4,500 per month.
Read More About