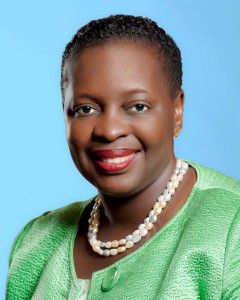 This evening [Oct 26] Premier Paula Cox will receivs the International Women's Forum [IWF] Women Who Make A Difference Award.
Premier Cox is currently in San Francisco attending the IWF's annual World Leadership Conference. Premier Cox is the President and founder of the Bermuda IWF Chapter. This year's conference theme is "Ideas Remaking the World".
Annually, the IWF conferences brings together a broad cross-section of leading women from around the world in the areas of politics, education and business to share ideas and discuss solutions about the global social, political, environmental and economic issues as a collective body.
And the Women Who Make A Difference Awards are conveyed each year by the IWF in recognition of women around the world who by way of their example, contributions and exceptional leadership have removed barriers for women's advancement. Premier Cox will be one of ten recipients being honoured at this evening's event.
Other local attendees at the San Francisco event include, MP Patricia Gordon Pamplin, MP Louise Jackson, business women Paula Clarke, Pam Ferreira, Vicki Coelho and singer Gita Blakeney. Costs for this week's trip are not publicly funded.
Read More About