The Peace and Social Justice committee of the Roman Catholic Church of Bermuda will be honouring [posthumously] Monsignor Filipe de Paiva Macedo on Friday, November 30th at 7pm at the Vasco da Gama Club on Reid Street.
Father Macedo — as he was known — was an honorary member of Vasco da Gama club, former Portuguese vice–consul, Catholic priest and activist against immigration injustices that affected the Portuguese community in Bermuda between 1958-1981.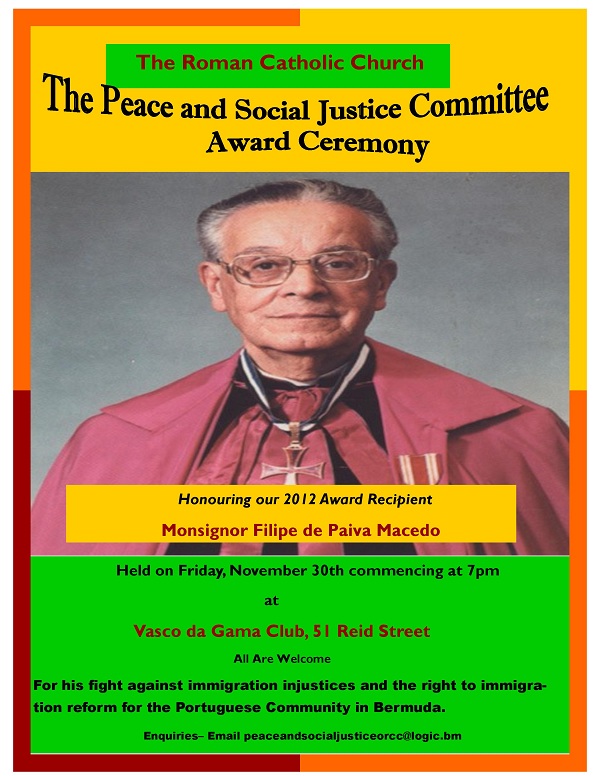 Father Macedo will be the fourth recipient of their Peace and Social Justice Award. Dr. Barbara Ball was their first recipient in 2008 for her fight for justice through Labour and Trade Unions, in 2009 the Progressive Group were the second recipients for their stand against racial inequality in Bermuda, and in 2010 Dr. Dorothy Thompson [posthumously] received the award for her work with women and girls.
The Social Justice teachings of the Roman Catholic Church clearly speaks to the fact that: "host countries must keep careful watch to prevent the spread of the temptation to exploit foreign laborers..…ensuring that immigrants are integrated into society with the guarantees required by recognition of their human dignity. In this context, the right of reuniting families should be respected and promoted."[The Compendium of the Social Doctrine of the Church].
During the 24 years that he was here, Father Macedo fought tirelessly to gain back the rights, taken away from Portuguese nationals working in Bermuda, to bring their wives and families with them; a right afforded other foreign nationals working in Bermuda at the time.
Read More About
Category: All