Bermuda Hospitals Charitable Trust [BHCT] today released a selection of short testimonials and portraits of Bermuda residents and visitors endorsing the Why It Matters campaign.
Launched in April 2011, the Why It Matters campaign aims to raise $40 million dollars in support of the KEMH Redevelopment Project. Over the past year, BHCT has hosted a series of public campaign activities and information sessions to create awareness and a level of understanding amongst the local and international business sectors.
Now, as the Why It Matters campaign expands its focus to the community at large, volunteers have taken to the streets to encourage members of the public to be a part of the island-wide campaign.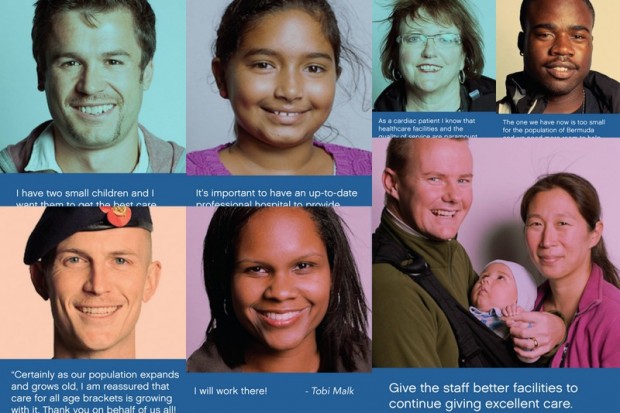 The campaign theme, Why It Matters, captures the essential nature of the campaign: ensuring quality hospital care is available on island, when it matters most. Utilizing this theme, Why It Matters we are inviting the public to make the appeal personal by posing for a photograph and expressing why our new hospital facility matters most to them.
All participants will be included in campaign promotions showcasing a spectrum of local residents/visitors inclusive of those who have donated and specifically those who have been impacted or realized the need to have care close to home.
Most recently, the Why It Matters pop-up photo booth was present at the opening night for the World Rugby Classic and captured a sampling of portraits and testimonials about Why It Matters.
Over the next few months, Why It Matters' photo booths will be present at various community events to give every resident an opportunity to get involved. The goal is to create awareness about how all Bermuda residents will benefit from the new state-of-the-art hospital to be completed in 2014, and also generate financial support. For those who will be attending and wish to participate, the next opportunity to be photographed for the campaign will be at the World Rugby Classic on Saturday, November 17th from 6pm until 9pm.
The community can get also involved in the Why it Matters campaign by visiting the campaign website www.whyitmatters.bm to view portraits, read testimonials or donate.
Click to enlarge images:
Read More About