Eight secondary schools earned $30,000 each this evening [Nov 28] after their students teamed up with local charities under the "Dollars for Hours" project led by PartnerRe.
Students aged 14 to 18 from CedarBridge, Saltus, Somersfield, Berkeley, Bermuda High School, Bermuda Institute, Warwick Academy and Mount Saint Agnes all adopted a different charity and worked to help assist in their community endeavours. In return for the student's efforts, PartnerRe donated $30,000 to each school for a total of $240,000.
"This is the seventh time that PartnerRe has paired local charities with the secondary schools, bringing our total Dollars for Hours donation close to $1.5 million since the program's inception in 2006," said PartnerRe President and CEO Costas Miranthis.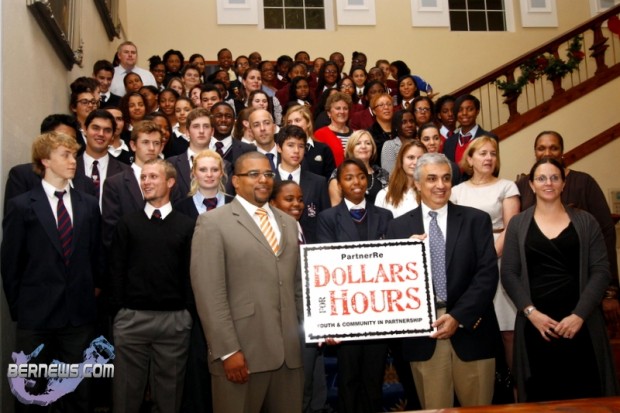 "As a Bermudian company, we have a genuine interest in Bermuda and in particular, its young people," said Mr Miranthis. "The Dollars for Hours initiative makes a direct contribution to the schools, community and ultimately to the economy which depends on the success of Bermuda's young people. We believe Dollars for Hours creates a win-win-win situation for everyone involved."
Senator Diallo Rabain said: "On behalf of the Minister of Education, the Hon. Dame Jennifer Smith, it's wonderful to be here once again to participate in PartnerRe Ltd.'s "Dollars for Hours" initiative.
"This evening's event celebrates the fact that the majority of our young people are doing tremendous and exciting things in the areas of education, sports and in particular community service.
"Since 2006, under the watchful guidance of PartnerRe and some of our local charities, hundreds of Bermuda's students have been afforded an opportunity to work towards giving back to our community.
"In the past seven years, the total contribution of the Dollars for Hours initiative has topped close to $1.5 million. And today eight schools will receive $30,000 – a total of $240,000 – thanks to the efforts of some committed students. That's a fantastic accomplishment.
"They say there is no nobler cause than that of the giving of your time for the service of others. And thanks to the efforts of PartnerRe, our students have learned through this project that by having a good work ethic and a selfless attitude, coupled with discipline and dedication can only result in significant rewards.
"So to PartnerRe once again thank you for your generosity and I want to extend my heartfelt thanks to you for your support of our young people," concluded Senator Rabain.
Click to enlarge photos:
Read More About