Twenty four young women have completed the first ever She Leads: A Real World Readiness Programme in a public/private partnership offered to students from BHS, The Berkeley Institute and Cedarbridge Academy.
A spokesperson said, "On Friday, July 5th, 24 young women completed the first ever She Leads: A Real World Readiness Programme after a week of guided workshops, inspiring speakers and personal reflection. This ground-breaking public/private partnership was offered to students from BHS, The Berkeley Institute and Cedarbridge Academy in their penultimate year of high school through sponsorship from HSBC.
"The week-long programme taught the girls tools, frameworks and mindsets necessary for them to take ownership of their education, employment and beyond. HSBC's Community Investment Manager, Clesia Pachai, shared "Both HSBC Group and HSBC Bermuda have provided funding to ensure the successful execution of this programme. 
"The She Leads Programme is a good example of HSBC's strategic investment to support charities which focus on the bank's 'Future Skills' pillar offering programmes around 'employability' and 'financial capabilities' to our community. 
"These initiatives, aim to empower and equip members of our community to secure employment and manage their monies effectively, starting with our young people."
Jasmine DeSilva talk to the students about self-care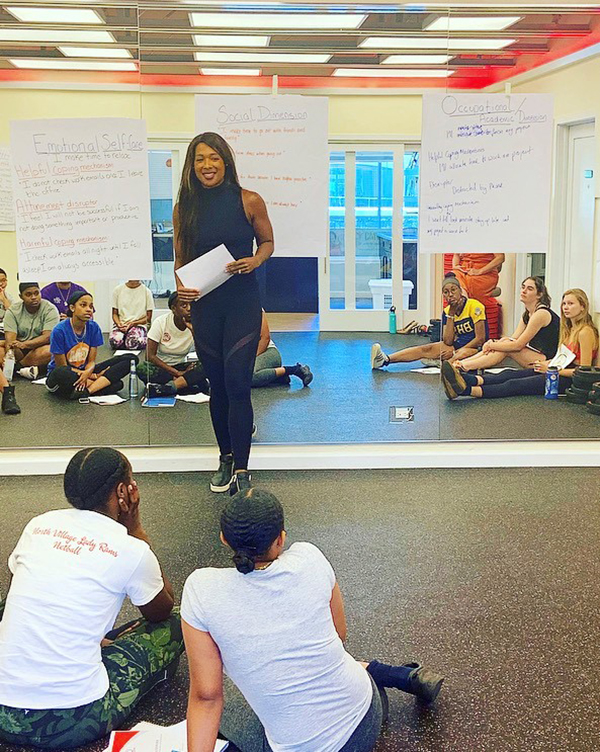 "At the start of the programme the students arrived at BHS, some shy and hesitant about what was ahead, but by the end of the week the transformation in the young women was visible to all.
"During the course of the week, they heard from a diverse group of 16 women from the local community who shared their stories and advice in order to inspire.
"Suzanne Khan spoke on Monday about how to make decisions today which will shape tomorrow, Jasmine DeSilva impressed upon the girls about the importance of prioritising self-care, on Tuesday they received practical financial advice from Nicola Bromby in a special seminar hosted onsite by HSBC.
"On Wednesday, they spent a few hours at Argus with the dynamic women of the newly formed WeSpeak organisation and learned invaluable public speaking skills.
"After an hour of hands-on coaching, every single girl took a courageous risk and stood up in the room to give a short 30 second "speech" on what they had learned that day, prompting Wendy Davis-Johnson, Chief Communications & Culture Officer, Hamilton Insurance Group to declare, "Today I learned that the future of Bermuda is in good hands!"
"For the latter part of the week, workshops included "Nerves and Networking", "Making Money and Changing the World Doing What You Love" by young Bermudian entrepreneur Gaynete Jones, and "Leading by Example: How to Redefine Risks and Bounce Back from Failure". Each workshop was specifically designed to speak to a need that young women today have – to teach them coping skills for stress, boost their confidence and strengthen their resilience.
She Leads Class of 2019 with Christie Hunter Arscott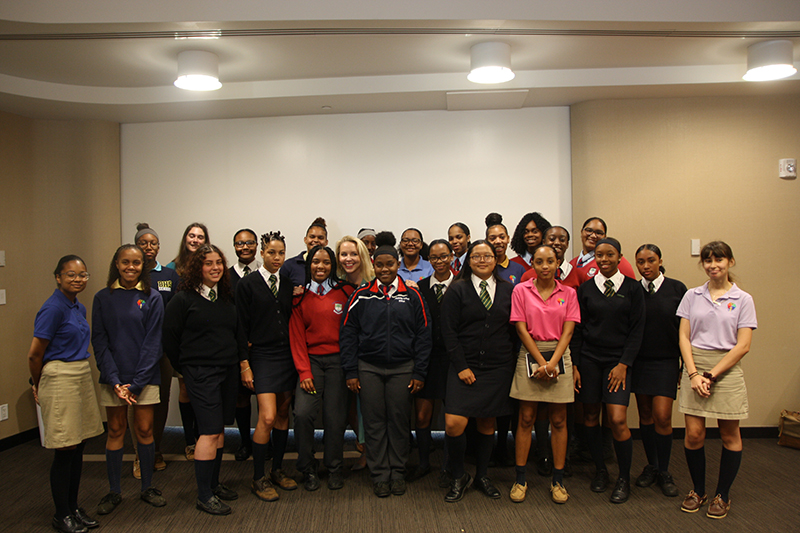 "For their final presentations, parents, family members, staff from BHS, The Berkeley Institute and Cedarbridge Academy, Commissioner of Education, Kalmar Richards and Minister of Education, The Hon. Diallo Rabain, J.P., M.P. were all in attendance at the Harbourview HSBC location."
Head of BHS, Linda Parker, welcomed invited guests and stated, "It is so important for our young women from BHS, The Berkeley Institute and Cedarbridge Academy to be able to network, collaborate and learn from each other.
"This public/private partnership is a win-win for all of the young women and has solidified a sisterhood between each young woman. Thank you to the young women for maintaining their high level of interest and engagement throughout the week.
"Through their daily reflection and reporting out, it is evident that this experience has been one that is life changing."
The girls presented their group and personal projects, and at the end they were each invited to describe their main takeaway from the week. Common themes included a realisation of how important it is for young women to support each other and build each other up, to be less self-critical, the importance of self-care and the joy at the new friends and connections that they had made.
Makailah Nisbett of Cedarbridge said, "My main takeaway from this programme is to stop convincing myself that I can't do something and to say that I can, and to say yes more often."
Iannah Caines from BHS said "This week has been powerful to see how all of us can connect and come together as a female community."
Gaynete Jones talks to students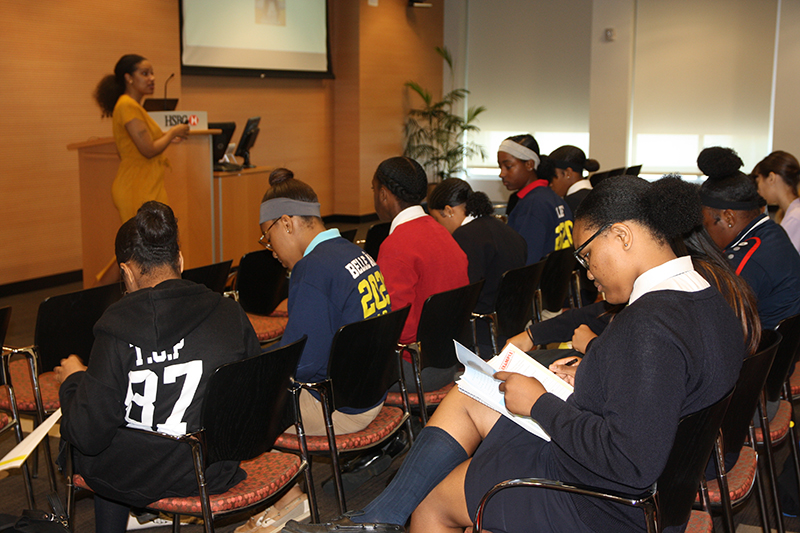 The exclusive programme curriculum was developed by BHS alumna, Christie Hunter Arscott, who is a strategic advisor on gender issues. It was specifically tailored to how girls learn and provided a safe place for the girls to take risks and build their confidence and skill sets.
Ms Hunter Arscott noted, "It has been amazing to watch the transformation of these young women, even within this short programme. So many of them have come out of their shells, conquered fears, tackled self-doubt head on and made meaningful connections with other young women from across the schools." 
The spokesperson said, "Having completed the course, the students will return to their schools in September and share the course materials and topic guides with their peers.
"This unique student-to-facilitator progression means that more young women will be able to benefit from the course materials, and it will give participants an additional opportunity to deepen their learning, develop their leadership skills and put those skills into practice.
"The girls will also meet up throughout the school year for further workshops and to foster the connections and network they created during the week.
"After this successful pilot of the She Leads programme, it is anticipated that another week will be offered in the summer of 2020. For more information on the programme please contact sheleads@bhs.bm."

Read More About