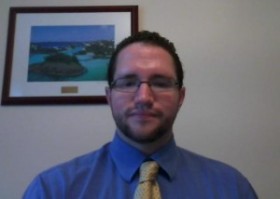 [Opinion column written by Jonathan Starling]
Since announcing my candidacy as an Independent for Constituency 20 in the upcoming general election I have been asked by a number of constituents about why I decided to run there. They have noted that they feel it is a stronghold for the Opposition OBA.
Well, there are a number of reasons why I am running in Constituency 20. Apart from having a connection to the constituency, which I think is important for any candidate, and that I believe my skill set, including economics and urban planning, is particularly well-suited for this constituency, I also have a very strong belief that there should be no 'safe seats' in our democracy. Safe seats breed complacency.
They lead to parties taking the constituency and its constituents for granted. No candidate should ever take their constituency for granted, and no constituent should ever feel that they are being taken for granted. That isn't good for the constituency, and it isn't good for Bermuda.
It also leads to the other main party only fielding a candidate because they 'have to', with the candidate often just 'going through the motions' rather than being passionate and dedicated to the constituency.
No constituent should ever feel that their candidate is just filling space and not serious about representing them and their interests. That isn't good for the constituency, and it isn't good for Bermuda.
So, I want to send a message to Constituency 20 that I'm not running because I see the constituency as a safe-seat and easy ride into parliament, or simply because no other constituency was available and someone had to go through the motions of challenging for the seat.
I am running there because I genuinely believe I can serve this constituency and its constituents well and because I have the passion to represent them in parliament. I wouldn't have put my name in the ring if I felt otherwise.
I want them to know that I do not take them for granted, and because I cannot take them for granted this means I will have to work harder in representing them and engaging with my constituents than a candidate who takes a safe seat for granted or is just going through the motions of challenging for it.
It deserves to be contested. It deserves to have an election rather than a coronation. In a democracy there must be no safe seats, no inherited seats from one election to another. Constituency 20 deserves better. Bermuda deserves better.
I have the experience, the skills and the passion to stand up for Constituency 20 and to be an independent voice for Bermuda. And I look forward to doing just that.
- Jonathan Starling will run as an Independent candidate in C#20 Pembroke South West in the upcoming General Election.
Read More About