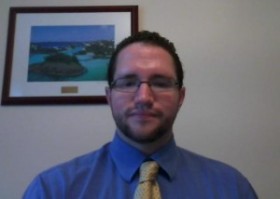 Jonathan Starling has announced that he will run as an Independent candidate in C#20 Pembroke South West in the upcoming General Election.
The 32-year-old has Master's degrees in Ecological Economics and Urban and Regional Planning, and is well known in the online community through his Catch-A-Fire blog, which he has maintained since 2007.
Mr Starling said: "Over the last year and a half I have been watching the political discourse in Bermuda, and, while there are good ideas and candidates, I kept feeling that a number of key issues were being ignored and that neither the PLP or the OBA represented my beliefs or were discussing the issues that I feel are important for Bermuda.
"As an Independent candidate I am able to bring these issues to the forefront. The ideas that I represent, that I have included in my platform, are ideas that I think are good – good for Bermuda and good for Constituency 20.
"As an Independent I am free to voice my opinion and vote freely on all issues. My decisions will be based on what I think are best for the country and my constituents, not what is best for a political party or its special interests. Ultimately I will be answerable to my constituents, not a party hierarchy."
Some of Mr Starling's platform highlights include:
Decriminalise personal possession of marijuana up to one ounce
Make medicinal marijuana available by prescription
Tax junk food to subsidise healthy food
Institute a minimum living wage
Extend the school day to 5pm
Fixed term elections, every five years, on the last Saturday of June
Reduce the age at which one is able to vote and run for Parliament to 16 years
Require MPs who switch from one Party to another to contest a bye-election within 6 months
Review the justice system with an intention of making restorative justice central
Expand the City limits to allow the more cohesive planning of the urban area
Mr Starling will be running in C#20 Pembroke South West, which is presently held by the OBA's Louise Jackson. Mrs Jackson is retiring and the OBA has not formally announced her replacement, while the PLP has confirmed that Marcus Jones will stand for them in C#20.
The constituency saw  the largest margin of victory in the 2007 General Election, with Mrs Jackson [under the UBP] earning 83% [711-145] of the vote vs the PLP's Laverne Furbert. In the 2003 General Election, Mrs Jackson won with 81.83% of the vote against Neville Darrell.
Explaining why he choose #C20 — traditionally seen as a stronghold for the Opposition — Mr Starling said: "Constituency 20 is where I am currently based, and I feel that my skills and experience can be best used to deal with the issues that affect Constituency 20, especially as it contains the City of Hamilton."
The 2012 election looks to have more Independent candidates than recent years; the 2007 election saw two Independents [Harold Darrell & Roger Russell], while one Independent [Stuart Hayward] contested the 2003 election. The last Independent to win a seat was Mr Hayward in the 1989 election.
To date seven Independent candidates have signaled their intent to run this year: Kim Swan in C#2 St. George's West, David Tavares in C#8 Smiths South, Phil Perinchief in C#18 Pembroke West Central, Erwin Adderley in C#19 Pembroke West, Tillman Darrell in C#21 Pembroke South East, Charles Swan in C#31 Southampton West Central and Mr Starling in C#20.
You can visit Mr Starling's website here, his Facebook page here, and read more info below [PDF here]:
Read More About