A motorcycle rider was arrested on suspicion of driving while impaired after riding right through the police cordon at the crime scene following today's [Dec 1] shooting.
After the shooting of a 19-year-old man in the Bandroom Lane/North Shore area, the police had the area blocked off and were restricting all traffic while they investigated the scene.
The police stopping the bike rider, the rider is on the ground as is his bike: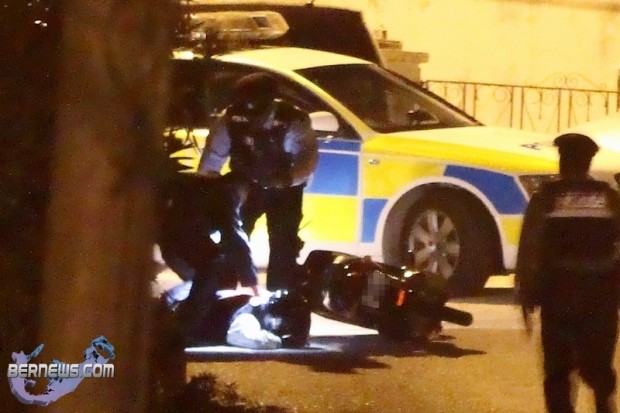 Approximately one hour after the shooting a motorcyclist riding along North Shore ignored the police barrier and sped up Bandroom Lane onto the crime scene. He was forcibly stopped by Police resulting in both himself and the bike laying on the ground.
Police Media Manager Dwayne Caines confirmed the individual rode through the cordon on a motorcycle, and was subsequently arrested for suspicion of driving while impaired and was taken to Hamilton Police Station.
Quick soundbite about the incident from Mr Caines:
Read More About