Four of the leading art organizations have joined pooled their resources to work together for the good of Bermuda art, and will be hosting a tag day in Hamilton on March 1st.
The Bermuda Arts Centre at Dockyard, Bermuda National Gallery, Bermuda Society of Arts and Masterworks Museum of Bermuda Art have joined together to express the importance of Keeping Bermuda Art Alive with the hopes of generating support for the local art organizations.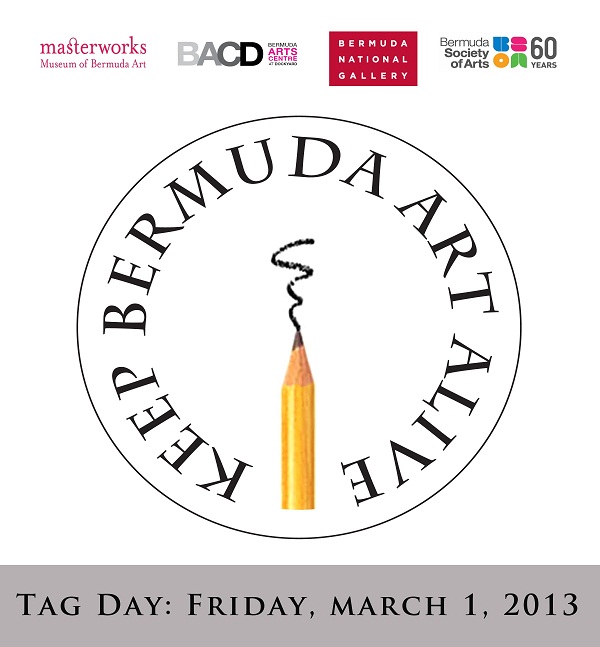 The Arts Centre at Dockyard came up with the idea of a collaborative Tag Day. Heidi Cowen, Administrator of the Bermuda Arts Centre at Dockyard said, "Art is an important part of the island's heritage and many of the art galleries on the island are in need of support".
"As our motto is 'Keeping Bermuda Art Alive' we approached the other galleries on the island with the idea of a joint Tag Day. We are delighted that this has been whole-heartedly received by the other organisations and are excited to partner with them on this venture."
Lisa Howie, BNG Director stateds: "Collaboration is one of the Bermuda National Gallery's core values, so this Tag Day is a perfect fit. We collaborated with Masterworks on a successful primary school programme called Art & Me; we share membership and events with the Bermuda Society of Arts; and now we get a chance to hold hands with the Dockyard Arts Centre. This Tag Day is an excellent opportunity to share our collaborative spirit."
Nzingha Ming, BSoA Assistant Gallery Director stated: "This year marks our 60th Anniversary at the Bermuda Society of Arts and we have many events planned for this year. The "Keeping Bermuda Art Alive" initiative displays the unity needed in the local arts community.
"Working alongside the other Arts entities has always been one of our aims and we hope this event will grow in the future." This is the 8th year that BSoA has awarded a bursary. The funds raised from this event "Keep Art Alive" will go directly to that bursary, so as to be of greater assistance in supporting and nurturing art and culture in Bermuda and encouraging art and artists to move forward."
Elise Outerbridge, Masterworks Curator added said: "This is a terrific opportunity to work together and share our common goals and ambitions. We all have different platforms but we also have a desire to bring people into the galleries and provide a unique experience and education. By all of us working together, not only will would each organization gallery benefit, but it's another way of Kkeeping Bermuda Art Alive."
There will also be an online method for payment via Premier Tickets. The art organizations are enthusiastic about this First Annual Tag Day, and hope this will lead to additional collaboration.
The day will also be an Art Appreciation day. Art in varied forms will be brought to Hamilton by each of the Galleries featured throughout the City of Hamilton during the day, including:.
The Bermuda Arts Centre is host to the PleinAir Group of Bermuda, who has been invited to paint in Queen Elizabeth park on Tag Day from 9:00 a.m. to 4:00 p.m.
There will be Quick Draw at City Hall. It only takes a moment of your time, and your work will be displayed at BSoA's Gallery.
Masterworks' Artists in Residence, Jennifer Lawson will be painting at City Hall.
Bobby Barritt will be signing and selling posters of his artwork given to the Bermuda National Gallery at the front of City Hall, donating proceeds towards the event. The artworks are entitled: Theatre Boycott Upstairs Right (1959) and Two Weeks Before Christmas and Government House (1960).
Photographers and interviewers will be out on the street interviewing people about Keeping Art Alive in Bermuda.
Read More About
Category: All, Entertainment