[Updated with video + photo gallery] Delta's inaugural flight from LaGuardia Airport in New York arrived at around 2.30pm this afternoon [Apr 8], receiving the traditional welcome of sprays of water when it touched down.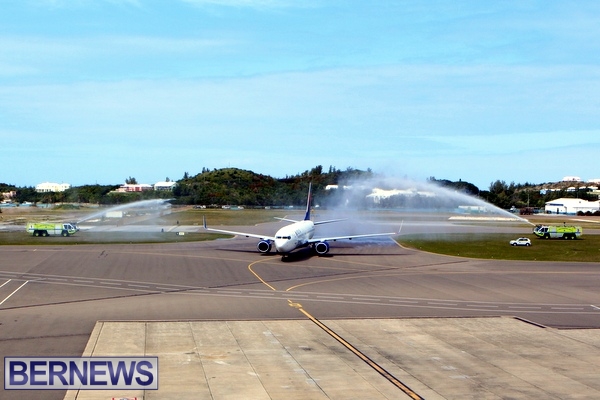 The daily flights will depart LaGuardia at 11:20am. and arrive in Bermuda at 2:30pm [including one-hour time difference]. When the flight was announced last year, Government said "the introduction of the La Guardia service means that Bermuda will have four daily, non-stop flights from the New York area during the 2013 peak season, up from the three that we have at present, thereby increasing the number of daily available seats from 450 to approximately 600."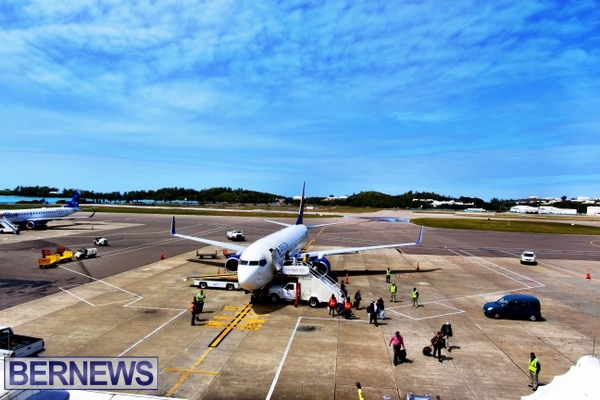 Update 5.10pm: Tourism & Transport Minister Shawn Crockwell said, "It gives me great pleasure this afternoon to welcome the inaugural Delta flight from LaGuardia Airport to Bermuda's LF Wade International. This daily service will no doubt prove a very popular service for east coast residents looking for a quick getaway to experience some of our famous Bermuda hospitality. And also for locals to travel to the east coast and one of the main gateway airports with connections to at least 50 further destinations.
"It was a couple of years ago that our friends and partners in the tourism industry expressed some reservations as to whether or not Bermuda had sufficient airlift out of the New York area – of course, our number one visitor market. And therein began the search for an airline partner willing to step in and take advantage of what we believed, was an opportunity to be realized. It wasn't long before one of our closest and longest serving partners, Delta Airlines, decided to take another chance on Bermuda at a time when perhaps doing so was not such a slam dunk that it once may have been.
"You see, it was a couple of years ago that Delta first opted to introduce a Bermuda service from New York LaGuardia and we didn't quite see the results that we both wanted to. Despite that – despite the incredible pressure airlines have, to realize immediate success in an industry faced with rising costs, consolidation and intense competition – Delta held steadfast, its belief in Bermuda; concluding once again that New Yorkers coveted a LaGuardia connection to the Island."
Minister Crockwell continued, "This Government, the Tourism Board and our industry partners, remain committed to making this flight a success. Following a wave of advertising support by the Department of Tourism at the start of March, lead bookings for April have gained 9 percentage points, with summer bookings falling in where we need them to be.
"To succeed in turning our tourism fortunes around, we must first re-establish our presence in New York. Today, ladies and gentlemen, represents an important step forward in accomplishing that goal. With the arrival of flight 437, Bermuda now has daily, non-stop service to each of the three major New York airports – JFK, Newark and once again, LaGuardia."
Click photos to enlarge:
Read More About
Category: Airport/Planes, All, News, Photos